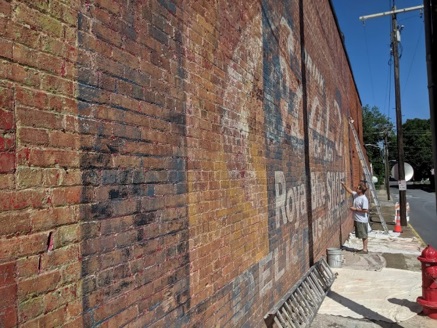 Special to Iredell Free News
The Town of Mooresville was recently recognized with the "Preservation in a Small/Medium Community" award at the 2020 Charlotte Preservation Awards for its collaboration with Brushcan Custom Murals of Asheville on the restoration and renovation of several historic Downtown wall signs.
Six signs throughout Downtown Mooresville, including the Geltz Shoes, Coca-Cola, and Mills Department wall signs on South Broad Street and the Kelly Clothing Company, Parking, and Goodman Drugs wall signs, located on North Main Street, had faded over time.
Tim Brown, senior planner with the Town of Mooresville and project manager for the restoration, said that the renovation originally came about due to requests from the Historic Preservation Commission to restore this "unique piece of Mooresville's railroad-era history."
Jeremy Russell and Scott Allred, co-owners of Brushcan Custom Murals, began their restoration efforts on the wall signs in June 2019 and spent more than 155 hours working on the signs, using their unique restoration process and techniques.
The restoration project was submitted to the Charlotte Museum of History as a nomination for its annual Charlotte Preservation Awards, which "celebrate restoration and projects in the greater Charlotte region that exemplify the best of historic preservation."
During the ceremony, which was presented online this year, Adria Focht, the president and CEO of the Charlotte Museum of History, said that the winning project was a "visual delight," and that the judges were "so impressed by the layering sign restoration."
"It really highlights how preservation and restoration of historic art can bring added interest to a downtown area and increase the wellbeing of the people who live and work there," she stated, adding that the restoration inspired the judges to potentially create a new award category for next year for non-traditional preservation.