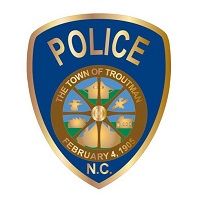 BY DEBBIE PAGE
debbiepage.iredellfreenews@gmail.com
After a successful three-month trial of the cameras in the high-traffic Exit 42 area, the Troutman Town Council approved the purchase of 14 FLOCK license plate readers to strategically cover most entrances and some exits to the town.
Detective Sergeant Corey Richard, who is heading up the program for the department, said the cameras will be installed after FLOCK representatives, TPD, and the N.C. Department of Transportation firm up a placement plan and right-of-way permissions.
The still picture cameras capture vehicles' license plates as they pass as well as color, make and model.
"The main reason for doing this is that most of the crime that occurs in Troutman is from outside our jurisdiction," Richard explained. "Basically, the criminals come into Troutman, commit crimes, and leave, and it makes it really hard to locate the suspects for certain crimes.
"All these cameras do is capture a plate as it comes in and leaves town to give us better suspect identity."
Police Chief Tina Fleming said that the system can also help TPD officers locate a suspect.
"If we have a suspect vehicle and they say it's a blue Ford truck, we can put in the color of the vehicle, the make and style and a time period we suspect they came through, and it will show us all those matching vehicles that came through, get a license plate, and get a name and address," she said.
Richard learned about these plate readers when the Democratic Convention came to Charlotte in 2012.
"I saw the success that CMPD had with their cameras. Their cameras helped locate our suspect from a bank robbery here in town years ago," he said. "Ever since then, I've been looking at different types of systems and the most cost-effective avenue to go. That's when I ran across a company called FLOCK, and it just kind of blossomed from there."
Company representative Alysha Stanton told the council in May that the FLOCK cameras, made by the three year-old company based in Atlanta, can help council members meet their goal of reducing crime and keeping the community safe as it experiences anticipated growth over the next few years.
On the first day that the trial cameras were in operation, Troutman officers received an alert about a stolen car. The alert yielded arrests not only for the stolen vehicle but for drugs and other charges in what is now an FBI investigation.
Stanton also shared the story of Sandy Springs, Ga., FLOCK cameras, along with HOA-owned cameras, helping nab a chronic "porch pirate" stealing packages throughout the area.
A search of the perpetrator's apartment located a trove of stolen merchandise and resulted in 23 federal counts since the stolen packages came from a number of other states.
Richard said the cameras cross reference with the National Crime Information Center database, so if a license plate matching a stolen car or tag, a person with outstanding warrant, or an Amber, Silver, or other endangered person alert comes through, officers are immediately aware.
Fleming said officers are alerted in 20 seconds via text after the cameras spot a vehicle that has been entered in the system so officers can respond quickly to apprehend offenders or assist persons in danger.
"That keeps Troutman safer," said Richard.
Fleming agreed, noting that if a crime occurs, the plate readers will help officers locate the individuals more quickly. They may also deter individuals from coming to town to engage in criminal activity.
With the cameras' help, officers have located stolen vehicles, property, and license tags, illegal drugs, people with outstanding warrants, and protective order violators.
A stolen tag camera alert led to TPD arresting a suspect with five felony and three misdemeanor warrants from Mecklenburg County. "The suspect said, 'That's the last time I come through Troutman,' " said Fleming.
The cameras will also help crime prevention and apprehension of suspects in surrounding areas of the county as well. TPD is providing Statesville and Mooresville police departments and the Iredell County Sheriff's Office a unique log-in.
"If they are looking for a certain suspect or vehicle, they will be able to go on and look for it without even asking us"
Richard said neighborhood HOAs who purchase FLOCK cameras could reduce crime in their subdivisions. They can give police access to the cameras to locate a suspect vehicle in the offense time frame and recover stolen property or locate a criminal perpetrator more quickly.
In Sutter's Mill, a car was stolen one night, and Richard credited a camera reader in another jurisdiction for helping recover the vehicle. "If the neighborhood had it, we would have quickly known exactly who it was that committed the larceny."
The 14 solar-powered cameras will cost $2,000 each, including installation.
Fleming believes that the cameras will pay for themselves in saved manpower and money. In the case of the Sutter's Mill stolen car, it took Richard weeks, with the help of four other agencies, to locate the car, determine the suspect, and issue a warrant. With the camera, Richard believes he could have solved the crime in a day and issued the warrant without involving other agencies.
"It's a win-win for everybody," said Richard. "It just streamlines everything and makes us more efficient."