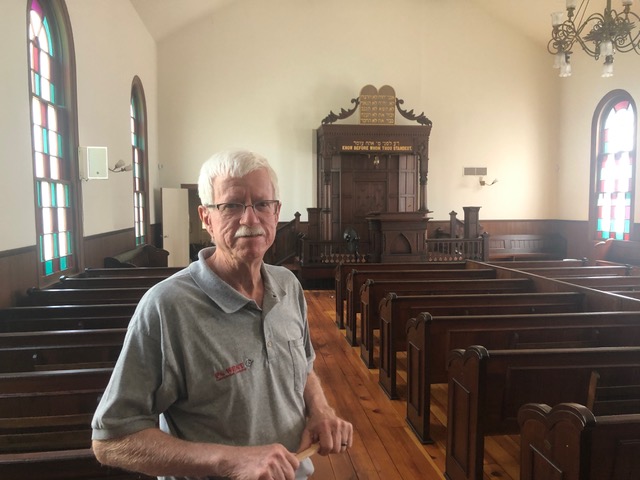 BY WENDY GORDON PAKE
Congregation Emanuel in Statesville, North Carolina's second oldest synagogue, began the observance of its 138th Jewish High Holidays on Monday, September 6 (1). This year was even more special as congregants – a handful in person and most participating virtually – proudly viewed the historic synagogue's newly-restored interior.
During 2021, P.S. West Construction Company Project Manager Ken Brendle caringly managed the complete restoration of the 19th-century synagogue to its original glory. Barry Gordon, a lifelong member of Congregation Emanuel, served as Congregation Emanuel's liaison with P.S. West and also directed the efforts to raise the funds needed for the project.
"Once the old carpet was pulled up and we discovered hardwoods, the enthusiasm and decision for undertaking the restoration project was put into place," Gordon said. "It was a joy working with Ken."
The Synagogue's sanctuary, mostly unchanged since the building's completion in 1892, is adorned with hand-carved mahogany furnishings. The Ark holds sacred Torah scrolls, is crowned by tablets displaying the Ten Commandments, and is inscribed in both Hebrew and English: "Know Before Whom Thou Standest."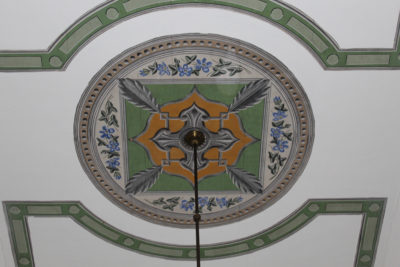 A Ner Tamid (Eternal Light) above the Ark burns perpetually as a symbol of divine presence always and everywhere. An elaborate ceiling fresco surrounds the building's original chandelier, believed to be the work of G. Karcher. Karcher, a Swiss-born artist who resided in Statesville in the late 1800s, was well-known as "the most skillful man in town and a frescoer of no mean order." (2)
A sampling of the work that was required to restore the Synagogue:
• Adding foundational support for the Bimah (pulpit) and the Ark;
• Removal of carpet and pews;
• Repairing, stripping and refinishing the original hardwood floors, woodwork and pews; and
• Repairing and adjusting the original steel fence that surrounds the Synagogue.
In keeping with modern times and COVID-19 protocols, improvements to the building also included a new technology system. In 2021, congregants and guests will have remote access to Congregation Emanuel's services and other streamed programming.
On the afternoon of August 22, Congregation Emanuel celebrated with a Restoration Reception.
Inside the Romanesque Revival brick synagogue, with just a few people attending "in person," Beverly Maurice, Congregation Emanuel's president, greeted congregant and harpist,Helen Rifas.
Rifas' music set the tone – reminiscent of ancient times, from generation to generation, elegant yet grounded.
Though the pews were empty due to COVID-19 restrictions, the excitement was palpable as a network of guests "logged in."
More than a century ago, on the evening of May 25, 1892, this same Synagogue held a dedication for its new building: "this house of worship, filled to capacity with Jewish citizens, a large number of friends from other denominations, and quite a number of visitors (from out of town)" (3). Likewise, the 2021 Restoration Reception boasted attendees from near and far.
Beverly Maurice opened with a recognition of Ken Brendle's exceptional work, and delivered a message of sincere gratitude to Brendle, on behalf of the entire Congregation. After remarks from Steve Kerbel, longtime guest educator; Rev. Dr. Steve Shoemaker; and Mayor Costi Kutteh, local historians Dr. Steve Hill and Joel Reese took the audience back in time, with stories and photos from the past. Guest Dr. Leonard Rogoff, president and historian of Jewish Heritage of North Carolina (JHNC), and author and director of the multimedia, "Down Home: Jewish Life in North Carolina," complimented the "delightful event" and commended Congregation Emanuel's and historians Reese's and Hill's preservation of the community's historical documents.
From Hill's Statesville Historical Collection (bit.ly/SvlHist) and Reese's digitized records at the Iredell County Public Library (see full collection under "Congregation Emanuel" at bit.ly/ICPLibrary), the reception attendees enjoyed entertaining highlights of the rich history of Congregation Emanuel:
• In 1883, Congregation Emanuel first met in the home of Isaac Wallace. The Congregation quickly outgrew Wallace's home and rented a larger space in the Fireman's Hall.
• At the 1892 Synagogue Dedication, Rabbi/Dr. Benjamin Szold, father of Hadassah founder Henrietta Szold, remarked on Congregation Emanuel's "magnificent building" in "America, the glorious land of liberty where every man can worship after the manner of his own faith" (4).
• In 1899, a cyclone destroyed Statesville's First ARP Church building. For more than a year, Temple Emanuel shared its building: "When our church was destroyed, the kind tender of your temple was the first bird note of Hope …Coming generations may know the brotherly feeling existing between us (that) as time goes on it may even grow stronger" (6)
• A member of Congregation Emanuel was an Olympic Gold Medalist in the 1924 Paris Olympic Games. Sprinter Louis Alfred "Pinky" Clarke, born in Statesville in 1901, brought home gold in the 4×100-meter men's relay. Clarke was originally slated to run in the individual 200-meter event. At the last minute, the U.S. Olympic Committee replaced Clarke with Charley Paddock. Although the reason for Clarke's move from the 200-meter was never officially announced, many accounts gave his being Jewish as the reason for the substitution (7). The Statesville Historical Collection museum exhibits photos and keepsakes from Clarke's Olympic Experience. (8)
LEARN MORE
For additional information, visit Congregation Emanuel's website (https://congregationemanuelnc.com/) and Facebook page (@www.congregationemanuelnc.org), or email cestatesville@gmail.com
NOTES
1. Oldest in terms of the building still being used for its original purpose as a synagogue
2. Jeannie Krider, "History Reflected by Temple," The Statesville Record & Landmark [Statesville, N.C.], 16 October 1971, p. 3-A
3. Iredell County Public Library. (n.d.). Centennial Celebration of Congregation Emanuel, 100th Anniversary Celebration booklet of Congregation Emanuel, Statesville, North Carolina, 1883-1983. https://www.flickr.com/photos/icplphotos/sets/72157719508185408/with/51295853877/.
4. In 1912, Henrietta Szold founded Hadassah with the vision to improve the health of those in Palestine, both Jewish and Arab. Henrietta Szold was known for her roles in health advancement, her care of all youth, beginning with the establishment of programs for youth who escaped Nazi Germany, and her namesake nursing school. Under H. Szold's leadership, Hadassah developed the infrastructure for what has led to Israel's modern medical system and numerous health, educational and social services institutions.5
5. Jewish Women's Archive. (n.d.). Women of Valor: Henrietta Szold. https://jwa.org/womenofvalor/szold.
6. "Letters to the Editor." The Landmark [Statesville, N.C.], May 1900.
7. Friedlander, B. (2020, May 20). Iredell County's Louis 'Pinky' Clarke, Olympic gold medalist, THE STATESVILLE SPRINTER WON GOLD AT THE 1924 SUMMER OLYMPICS. 100 in 100. https://nsjonline.com/article/2020/05/100-in-100-iredell-countys-louis-pinky-clarke-olympic-gold-medalist/.
8. Statesville Historical Collection Address: 212 North Center Street, Statesville, NC 28677