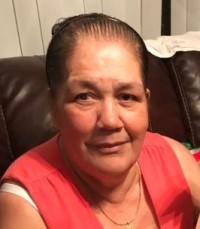 Silvestra Osuna Pineda, 65, passed away on Wednesday, September 8, 2021, at Wake Forest Baptist Regional Medical Center in Winston-Salem, N.C. She was born in Mexico on January 10, 1956, and was the daughter of Felicitas Palomares and Valentine Osvna. She was married to Narciso Pineda, who survives.
In addition to her husband, she is survived by sons, Alonzo Pineda and Narciso Pineda Jr.; daughters, Maria Dejesus Osuna, Yesenia Pineda, Grecia Pineda, Perla Pineda and Maria Pineda; grandsons, Oscar Acuna Osuna, Antonio Pineda, David Pineda, Pablo Pineda, Alexis Carranza, Yandel Rodas, Malik Pineda, Abraham Ayala, Christopher Ayala, Matthew Ayala, and Mykael Pineda; granddaughters, Fabiola Acuna Osuna, Paula Acuna Osuna, Jasmine Pineda, Breauna Rodas, Jennifer Rodas, Alasha Woodard, Aubrey Pineda, Narissa Pineda, Violeta Pineda, Cataleya Pineda and Jocelyn Sanchez Pineda; great grandson, Jose Alfreda Gerra; great granddaughter, Lineth Acuna; sons-in-law, Jimmy Garcia, Abraham Ayala, Antonio Chipley and Jesus Sanchez; daughters-in-law, Erika Pineda and Brittany Woodard; and a host of other relatives, neighbors and friends.
Celebration of Life and Graveside Services will be conducted Wednesday, September 15, 2021, at Oakwood Cemetery in Statesville at 11 a.m.
Silvestra will be taken to 820 Bethesda Road on Tuesday, September 14, 2021, at 2 p.m. for General Public Viewing.
Visit the Book of Memories for Silvestra at www.rutledgeandbigham.com.
Rutledge and Bigham Funeral Home is serving the Pineda family.