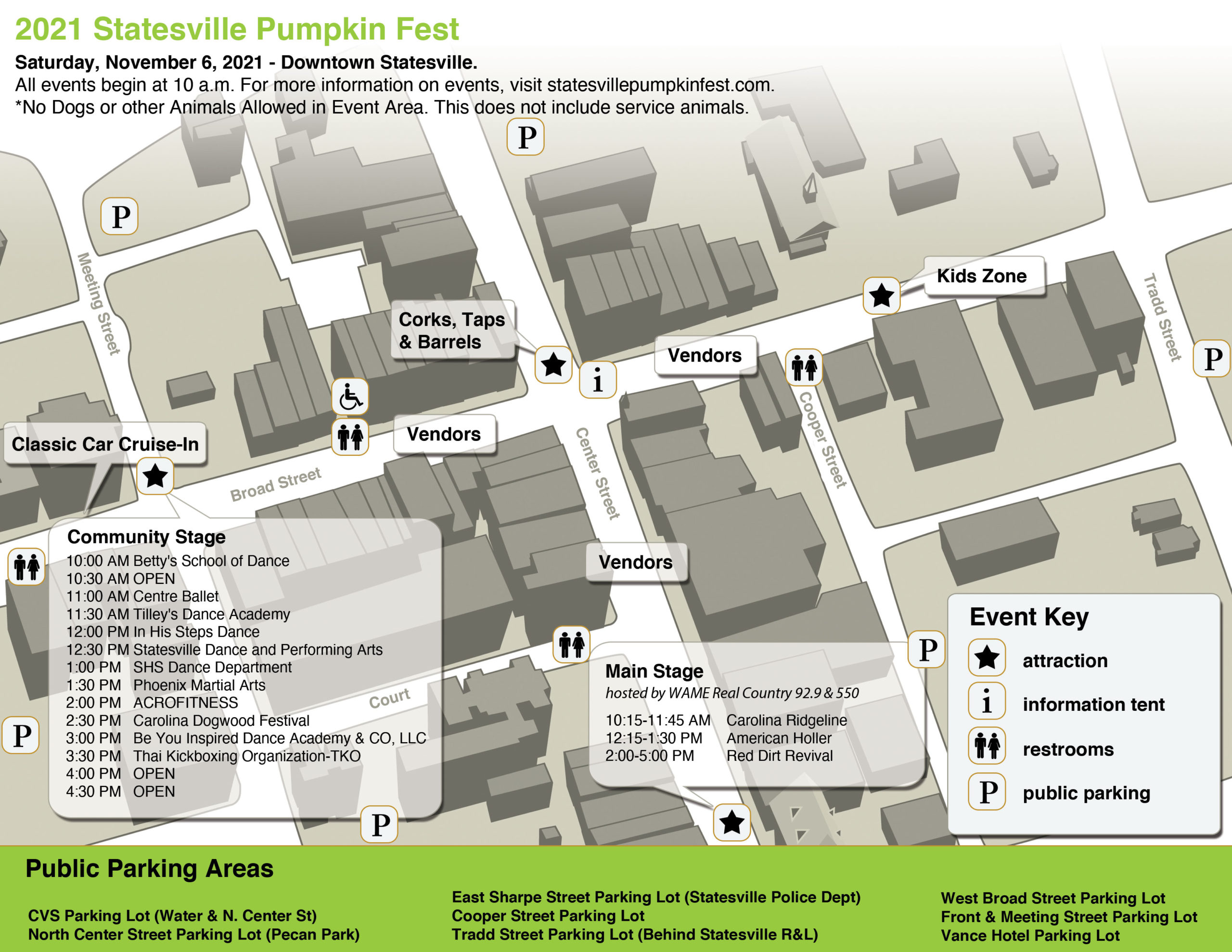 Special to Iredell Free News
The 18th Annual Statesville Pumpkin Fest will be held in Downtown Statesville on Saturday, November 6. From 10 a.m. to 5 p.m., the streets will be bustling with people enjoying live music, arts and crafts, great food, shopping, children's activities, and much more.
Organizers are excited about the new layout designed to enhance the Pumpkin Fest experience. The festival layout changes include: the Main Stage will be on South Center Street; kids will perform on North Meeting Street on the Community Stage; the Corks, Taps & Barrels Garden can be found near the square on North Center Street; the Kids Zone has shifted to East Broad Street; and the Classic Car Cruise-In will be on West Broad Street.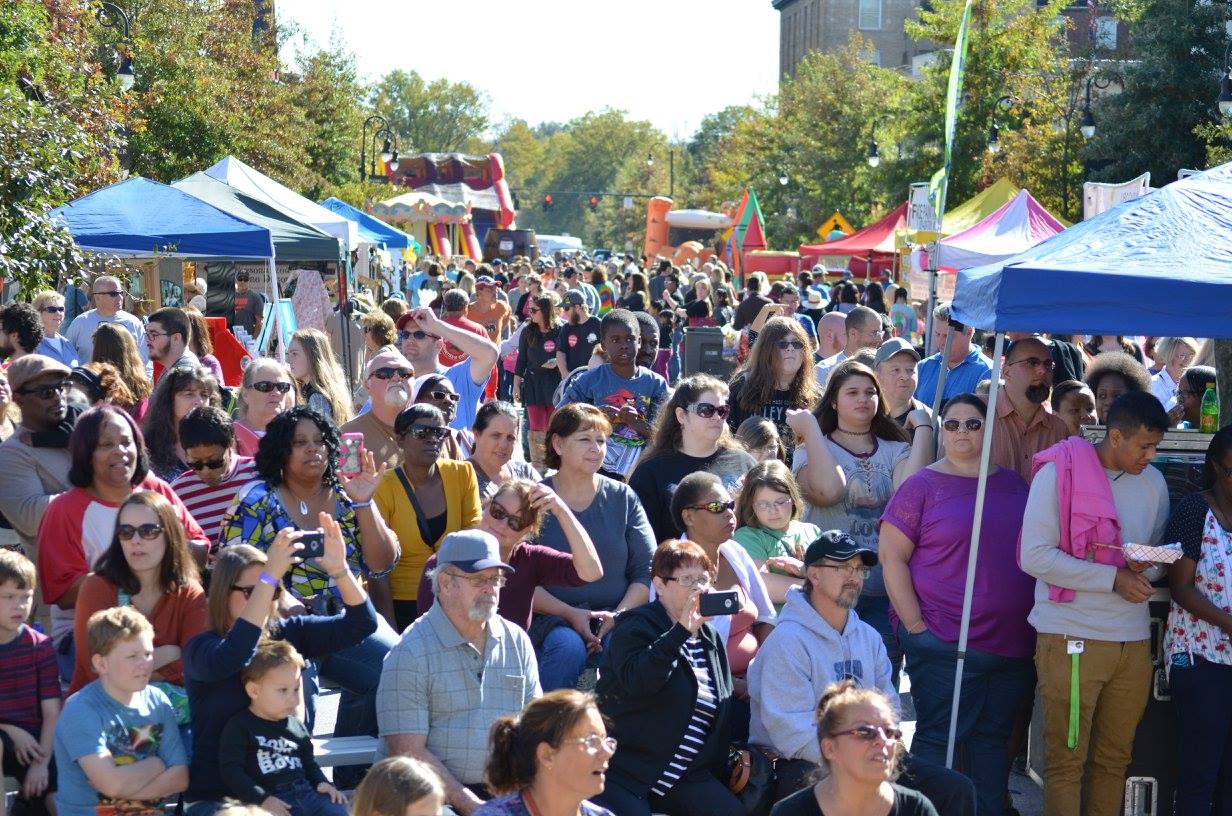 Event organizers have worked hard to pull this year's festival together and line up a variety of music and entertainment, including Carolina Ridgeline, American Holler, and Red Dirt Revival on the Main Stage, hosted by WAME Real Country 92.9 & 550. Numerous other performances will happen throughout the day, including demonstrations of dance, gymnastics, and martial arts on the Community Stage.
Kids will be entertained all day long in the Kids Zone, which will offer a variety of inflatables! All-day wristbands or individual tickets for the Kids Zone will be available for purchase at the festival.
For the adults, the Corks, Taps & Barrels Garden will feature domestic beer and wine, special cocktails by Southern Distilling Co., and craft beer from Fourth Creek Brewing Co. and Red Buffalo Brewing Co. Patriot Axe Throwing will be on-site with their mobile axe throwing lanes and Statesville Recreation and Parks will have cornhole boards for festival goers enjoyment.
The Classic Car Cruise-In will feature classic cars (1994 and older). All classic cars must enter from the intersection of Front Street and South Meeting Street. Participants will be directed from there. For more information about the Cruise-In, contact Chuck Goode at 704-929-8150.
Downtown restaurants and stores will also be open throughout the day. Admission to the festival is free, although some of the activities will charge a fee. The event will take place rain or shine.
Sponsors
The Statesville Pumpkin Fest is produced by Downtown Statesville (DSDC) and the Greater Statesville Chamber of Commerce, and sponsored by Connect Iredell, City of Statesville, Kewaunee Scientific Corporation, Southern Distilling Company, Home Paramount Pest Control, WAME Radio – Real Country 92.9, Statesville Country Club, blueharbor bank and All-American Stage, Sound and Lights.
Main Stage – Hosted by WAME Real Country 92.9 & 550
♦ 10:15 – 11:45 a.m. – Carolina Ridgeline
♦ 12:15 – 1:30 p.m. – American Holler
♦ 2:00 – 5:00 p.m. – Red Dirt Revival
Community Stage
♦ 10:00 a.m. – Betty's School of Dance
♦ 11:00 a.m. – Centre Ballet
♦ 11:30 a.m. – Tilley's Dance Academy
♦ 12:00 noon – In His Steps Dance
♦ 12:30 p.m. – Statesville Dance and Performing Arts
♦ 1:00 p.m. – SHS Dance Department
♦ 1:30 p.m. – Phoenix Martial Arts
♦ 2:00 p.m. – ACROFITNESS
♦ 2:30 p.m. – Carolina Dogwood Festival
♦ 3:00 p.m. – Be You Inspired Dance Academy
♦ 3:30 p.m. – Thai Kickboxing Organization-TKO