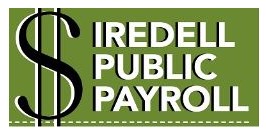 FROM STAFF REPORTS
Seventy-four people who work for county and municipal governments and the public school districts in Iredell County earn more than $100,000 annually.
County Manager Beth Mull earns the highest salary at $205,198, followed by Mooresville Town Manager Randall Hemann ($196,741) and Statesville City Manager Ronald Smith ($195,000). While Troutman Town Manager Ron Wyatt's salary of $99,956 ranked 75th among local government and school employees in early December, council members approved a $15,000 raise, effective January 1, 2022.
Payroll data from Iredell County, the City of Statesville, Town of Mooresville, Town of Troutman, Iredell-Statesville-Schools and the Mooresville Graded School District was obtained by Iredell Free News for this analysis by filing public records requests.
An analysis of the data revealed:
♦ There is gap in pay between command staff members for the Mooresville Police Department compared to the Statesville Police Department. While MPD Chief Ronald Campurciani ($131,328) and Statesville Chief David Addison ($131,158) receive comparable pay, two members of the MPD command staff — assistant police chiefs Joseph Cooke and Frank Falzone — also earn more than $100,000 annually. Both of Statesville's assistant police chiefs earn less than $90,000 annually.
♦ High-ranking Statesville Fire Department personnel also earn less than their counterparts at Mooresville Fire-Rescue. MFR Chief James Deaton earns $130,510 and Assistant Chief Michael LaCount is paid $113,032. Their counterparts at the SFD, Chief Andrew Weatherman and Deputy Chief Glen Kurfees, earn $104,450 and $82,180, respectively.
♦ Iredell-Statesville Schools administrators and principals generally out-earn their counterparts at Mooresville Graded Schools. I-SS Superintendent Jeffery James earns $11,000 more than MGSD Superintendent Stephen Mauney. The disparity is more pronounced in principal's salaries. While 10 I-SS principals earn more than $100,000, no MGSD principal earns more than $89,926.
♦ While County Manager Beth Mull commands the highest salary among local government and school employees, men still hold down 44 of the top 75 paying positions (59 percent) in Iredell County.
This analysis utilizes base salary and does not include deferred retirement benefits, vehicle allowances, performance bonuses and COVID-19 premium pay.
The Top 75