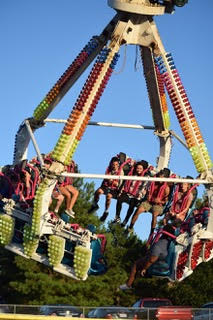 BY DEBBIE PAGE
debbiepage.iredellfreenews@gmail.com
After a year's hiatus because of the pandemic, the 85th Iredell County Agricultural Fair opens on Friday, September 3, at 5 p.m., with the official ribbon cutting at 7 p.m.
The fair runs through Saturday, September 11, with nine full days of rides, thrills, entertainment, and competitions.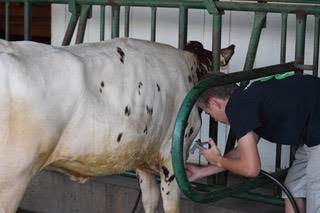 The Iredell County Cooperative Extension Service and the Kiwanis Club of Statesville partner to host the fair, the purpose of which is to promote local agriculture, improve youth participation in agricultural-related activities, and educate the public about the impact of agriculture in their community and daily lives.
"To say that we are excited is probably an understatement," said Kiwanis President Chuck Gallyon. "We are overjoyed! We are a small club with a big heart, and this is going to be a great fair for everybody."
Organizers have some concern about Gov. Roy Cooper imposing gathering restrictions with rising COVID-19 numbers, but Gallyon is hopeful the fair, as an outdoor event in a large space, will continue as planned. They are encouraging but not requiring face masks and will have hand sanitizer and bathrooms to provide hand hygiene opportunities.
Gallyon hopes for a big showing from local and state level officials at the Friday ribbon cutting to celebrate the 85th year of the fair as well as the 100th anniversary of the Kiwanis Club in Statesville.
The Kiwanis Club uses the profits from the fair to sponsor local organizations or service projects. Past recipients include the Boy and Girl Scouts, Relay for Life, United Way, Special Olympics, 4-H programs, Boys and Girls Clubs, My Sister's House, and Hospice.
Kiwanis also gives out thousands in scholarships to the county's high school seniors. Area youth also get involved with agriculture through 4-H, FFA, and other clubs involved in the fair.
Gallyon hopes folks will support the fair since the thousands of dollars in fair proceeds flow back out into the community. Supporting and learning about county agriculture is also important since Iredell leads state production in dairy, hogs, poultry, and other areas.
Supporting farmers is important to keep food on our tables, according to Gallyon, who recalled the old saying, "Don't talk bad about a farmer when you've got food in your mouth."
ADMISSION
General Admission is $5, with children 6 years and under free. Gates open at 5 p.m. except on Saturdays, Sundays, and Labor Day, when they will open at 3 p.m. The fair closes at 11 p.m.
No one will be readmitted after leaving the fairgrounds without the purchase of another ticket.
All county students (K-12) can attend the fair for only $1 admission on Tuesday, Wednesday and Thursday (September 7,8,& 9). On Thursday, September 9, senior citizens 60 and over and military veterans get free admission.
Special deals on rides are also available. Fairgoers can purchase an unlimited rides wristband for $18 on Sunday through Thursday nights or for $25 on Friday or Saturday nights.
Parking is $2 per car in Kiwanis-operated lots on the fairgrounds property.
COMPETITIONS
The fair gives local farmers and 4-H Club youths opportunities to show off the county's booming agriculture industry. Crafters, artists, seamstresses, gardeners, and homemakers can also show off their talents in various competition categories.
The Cooperative Extension staff is in charge of the livestock shows, educational exhibits, and the entries in canning, cooking, clothing, flowers, plants, vegetables, and other areas.
Animal and agricultural-related competitions are open again this year to participants from the counties surrounding Iredell, including Mecklenburg, Alexander, Catawba, Lincoln, Davie, Wilkes, Rowan, Cabarrus, and Yadkin.
Over $60,000 in premiums are being offered for a wide variety of competitions in field and garden crops, farm display, garden clubs, flowers and plants, family and consumer science categories, clothing, furnishings, arts and crafts, 4-H and youth exhibits, livestock, rabbits, and poultry.
Club displays installment starts Friday, August 27, and should be complete by Monday, August 30, at 5 p.m., before the opening of the fair. Departments will accept entries Tuesday, August 31, and Wednesday, September 1, from 4 to 8 p.m. Poultry Department entries are accepted Thursday, September 2, from 4 to 7 p.m.
Online application forms are available for printing at http://www.statesvillekiwanis.org/Page/16629. More information on entry rules, the premium book, and Best of Show guidelines is available online at http://www.statesvillekiwanis.org/Page/16630.
Prizes are awarded to 1st, 2nd, and 3rd places in all competition categories, with cattle prizes going through 5th place. The prize money comes from gate proceeds.
The 2021 Agricultural Fair "Best in Show Competition" at the North Carolina State Fair features the best arts and crafts entries from local agricultural fairs across the North Carolina. Iredell judges will select one youth and one adult entry from their blue ribbon entries to enter the state competition. These two entries will receive a $100 prize.
The N.C. State Fair, which runs through October 14-24 in Raleigh, will display all counties' "Best of Show" entries. After judging, one youth and one adult entry will earn the state's $500 Grand Prize Award.
RIDES
B & K Carnival offers a variety of exciting rides, including the Roundup, Yoyo, Barrel of Fun, Circus Train, Orient Express, Racing Cars, Bumper Cars, Scrambler, Hurricane, Super Slide, Tiny Tractors, Car Motorcycle Jump, Eli Ferris Wheel, Hawg Heaven Fun House, Merry-Go-Round, Astroliner, Funny Farm Fun House, Radical Run, Sea Ray, and Sky Jump.
To check them out, visit B & K Carnival online at https://www.bandkcarnival.com/activities.
DAILY ENTERTAINMENT
The Circus Shane Show will be performing each day. Shane Hansen has been performing since he was 3 years old with circuses, fairs, halftime shows, TV, cruise ships, movies, and more.
His wife and three daughters also join the rock-n-roll circus show, which features juggling, trampoline, magic, a spinning cube, loop-to-loop, and fire feats as well as a 65-foot high dive and pyrotechnics. Audience members also get to join in on the fun.
For more information, visit https://circusshane.com.
Pretty Bird Paradise is a fun and educational interactive attraction. Guests can actually interact with these beautiful birds in a safe, enclosed environment and feed the birds with food sticks, which allow the birds to land for a tasty snack. Most of the birds are rescue birds.
For more information, visit https://www.facebook.com/Pretty-Bird-Paradise-2173997535956465/.
DAILY SPECIAL EVENTS
On the opening weekend, fans will get their thrills at the Go Kart Racing competition at 7 p.m. at the outdoor arena both nights. On Sunday, September 5, visitors can enjoy the Dairy Cattle Show (indoor arena) at 7 p.m.
On Monday night, Go Kart racers will again take the track at 7 p.m. at the outdoor arena. Tuesday will feature a Beef Cattle Show at 6 p.m. along with the Mini Outlaws Racers competing at 7 p.m.
Mini Outlaw Racing will return on Wednesday at 7 p.m. On Thursday, fair-goers can enjoy the Sheep & Goat Show at 6 p.m., followed on Friday, September 10, with the Dairy Judging Contest at 3:30 and the Dairy Show at 7 pm.
The fair's final Saturday on September 11 will feature the 5th Annual Special Abilities Junior Dairy Show at 3 p.m. at the Indoor Arena. This show is for participants (youth through adults) with special needs to have the opportunity to work alongside of an exhibitor and show a dairy calf.
The crowd-pleasing Demolition Derby finale is scheduled for Saturday at 7 p.m.
For racing or demolition derby competition information, contact Jeremy Burnett at 704-701-1665 or email at JBurnett@minioutlawseries.com.
NEED MORE INFORMATION?
Call the fair office at 704-508-2126.