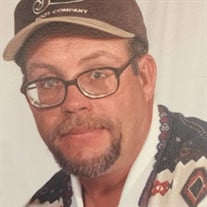 Grover Glenn "Goobie" Johnson Jr., 59, of Statesville, N.C., passed away unexpectedly on Friday, August 20, 2021.
Goobie was born in Monmouth County, N.J., on April 29, 1962, and was the son of the late Grover Johnson Sr. and Laura Rochester Johnson. He was a graduate of North Iredell High School and on August 23, 1996, he married Cindy Gaither Johnson and together they shared 24 years of marriage prior to his death.
Goobie was employed with EnergyUnited as a propane service technician, and he was of the Baptist faith. Goobie was an avid outdoorsman. He enjoyed being outside with nature. Goobie especially enjoyed farming and working his land. He also had a passion for deer hunting and carp fishing, competing in carp tournaments with his nephews. He also had a special way of addressing problems — if it's broke, cuss it!
In addition to his wife Cindy, Goobie is survived by one sister, Lisa Johnson (Gary Hamby); two nephews, Michael Weatherman (Kimberly) and Glenn Johnson, along with two great-nephews, Hunter and Dakota Weatherman, and one great-niece, Peyton Weatherman. He is further survived by his K-9 companion Gus.
Service and times to be determined.
The family would like to extend their sincerest gratitude to the Central VFD and the ICSO for the rapid response and delicate care of Goobie.
Nicholson Funeral Home is honored to serve the family of Grover "Goobie" Johnson Jr.