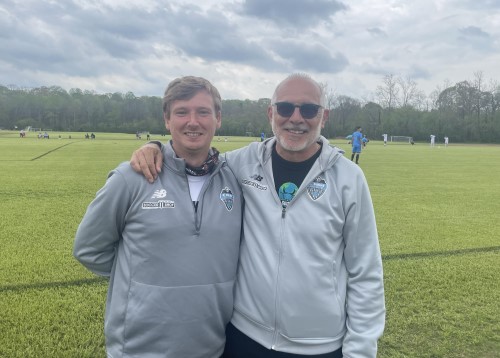 Special to Iredell Free News
Impact Futbol Club has formed a partnership with Combine Academy, creating a pathway from recreation to professional soccer for local players.
Combine Academy is an international boarding school and professional sports performance center located in the Lincolnton area. The academy offers high school and post-graduate athletes an all-inclusive and comprehensive solution for obtaining a prestigious academic education. In addition, student-athletes take part in professional-level sports training to take their athletic career to the next level.
Combine Academy has students and professional clients from over 50 countries and more than 40 states. Since 2012 Combine Academy has helped propel 500-plus student-athletes to the college level on athletic/academic scholarships.
Impact FC's mission has always been to make the best possible positive impact on our players, as well as their families lives, through the game of soccer. The club strives to equip its players with unmatched foundations in soccer skill development.
Impact FC's Director of Coaching Craig Hollis recently took on an extra role as associate head coach at Combine Academy under the leadership of Head Coach Bob Reasso.
With this new found partnership, Reasso and Hollis have created a unique program exclusively for Impact FC that will provide players with experience playing against UPSL and USL Academy level teams, as well as a specialized advanced training program, in preparation to graduate to be a Combine Academy player.
Looking beyond the small percentage of top players this program is specifically designed for, Combine Academy will also provide in season specialized clinics for all our players no matter the age and skill level, along with special guest appearances from the teams current UPSL players at our off season clinics and summer camps.
Impact FC and Combine Combine have designed this program to be very affordable for our players and families. Any player who graduates from the IFC/Combine program will receive up to $27,000 in scholarships when signing for Combine Academy.
"The exposure to this level of soccer education and play for our youth has always been an expensive path and therefore for a lot of players and their families out of reach," Hollis said. "My own personal goal is to create a place for our community that caters to every player's skill level and provides them the opportunity to develop as a player and as a person within a completed pathway Rec to Pro.
"Partnering with Combine Academy creates this for our community's players and their families. The best part is that everything we do and provide at IFC is affordable for everyone. I am very excited and grateful to be involved in soccer in Iredell County from the Recreation level now all the way to the UPSL with Combine. I would like to thank Mr Bob Reasso for creating this opportunity for our community and the future soccer stars of the United States".
Reasso said he was delighted to form this partnership with Impact FC.
"They are a very forward thinking club that really cares about making youth soccer an affordable opportunity for its members. Craig Hollis' knowledge and experience is the big reason we are forming this partnership. My players, staff and I are looking forward to working with Impact FC's staff and players, to do whatever we can to further their soccer experience.
"The scholarship opportunity for their players to join us at Combine Academy is an extra bonus for them and us, since they have some very talented players at the club. We see this partnership improving both their and our program for years to come."
The program will be in full force starting with the Fall 2021-22 season. Tryouts will be held in May 2021.
LEARN MORE
For more information on this program visit www.impactfutbolclub.com or emmail Impactfcnc@gmail.com.