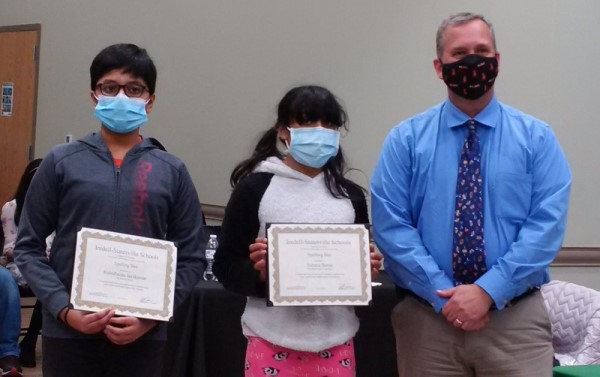 BY KARISSA MILLER
The word i s "beguile."
Meriam Webster's Dictionary defines it as leading by deception.
For The Brawley School sixth-grade student Rishidharan Jayakumar, the word meant victory. Rishidharan took first place as he was the last competitor standing during the 2021 Iredell-Statesville Schools District Spelling Bee.
Sahana Barua, a fifth-grade student at Woodland Heights Elementary, was runner-up.
Kelly Hinson, director of Gifted Learning, International Baccalaureate and online programs for I-SS, recognized these spelling bee winners during the March 1 Board of Education meeting.
This year's Spelling Bee lasted nine rounds. The competition took place on February 4 at Mac Gray Auditorium in Statesville.
Rishidharan will represent the district at the Regional Spelling Bee on March 21 at Carolina Panthers Stadium in Charlotte.