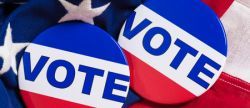 FROM STAFF REPORTS
Candidate filing is underway for several elected positions throughout Iredell County.
Candidates for the following positions were eligible to begin filing on Friday, July 2:
♦ TOWN OF DAVIDSON: Mayor and Board of Commissioners
♦ TOWN OF HARMONY: Mayor and Town Council
♦ TOWN OF LOVE VALLEY: Mayor and Town Commissioner
♦ TOWN OF TROUTMAN: Town Council
♦ MOORESVILLE GRADED SCHOOLS: Board of Education
The filing deadline is 12 noon on Friday, July 16. The filing fee in all races is less than $10.
According to the Iredell County Board of Elections, only one candidate filed for the October election on Friday. Phillip L. Baity filed the necessary paperwork to run for mayor of Love Valley.
Some Elections Delayed until 2022
Because 2021 is a year following the federal census, some municipalities must redistrict to correct population imbalances. Therefore, filing periods and election dates for district-based contests (City of Statesville, Town of Mooresville, Mooresville Graded School Board) have been delayed until 2022.
LEARN MORE
Click HERE for guidelines for running for municipal offices.