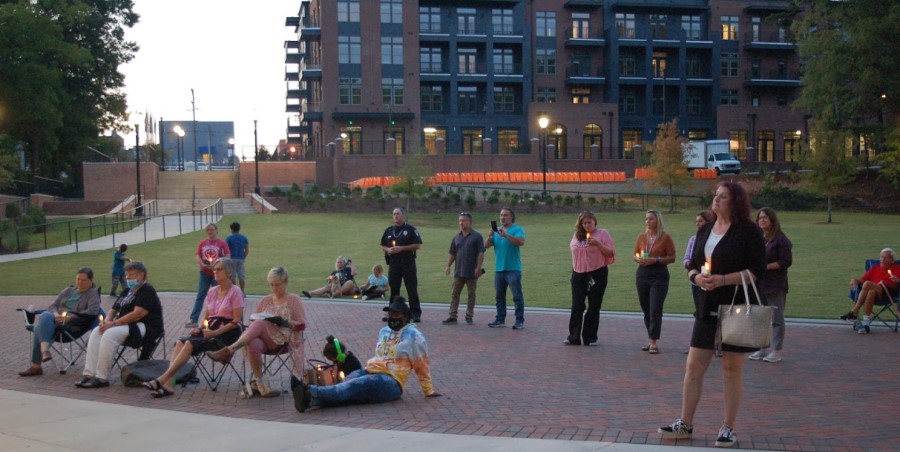 BY DEBBIE PAGE
debbiepage.iredellfreenews@gmail.com
Candles lit the night in Mooresville's Liberty Park to remember family and friends lost to overdose for the third annual Drug-Alcohol Coalition of Iredell's Overdose Awareness Day Candlelight Vigil.
About 30 people gathered on Wednesday to walk among the luminaries, to write their friend's or family member's name on the Hope and Remembrance Wall, and to listen to stories from overdose survivors and from those touched by overdose deaths. The event was delayed from its August date due to inclement weather.
DACI Board of Directors member Jim Dobson welcomed the crowd as "we honor and remember those we have lost and those that have lived and survived this painful journey of addiction."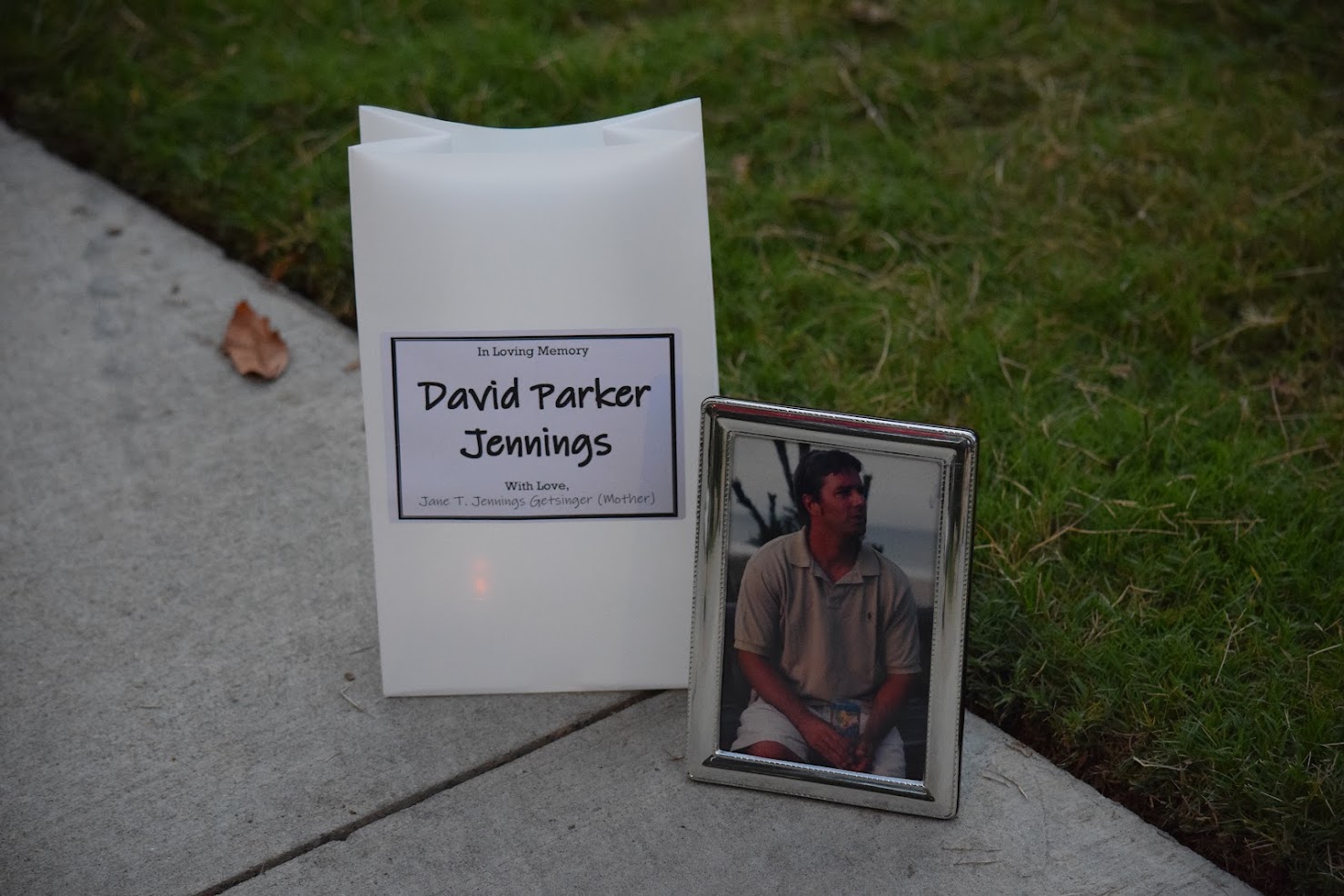 Dobson reminded attendees that "addiction does not have a face, gender or age." To remember those lost, Dobson said, "We will light a candle in their honor and say their names out loud and know that they matter a great deal and are truly missed."
Mayor Miles Atkins said that the vigil "will acknowledge the unnecessary loss and shared grief" related to overdose deaths. In the past 12 months, Atkins said 522 Iredell County residents presented to an ER because of medication or drug overdoses. This number does not include patients who refused care after receiving Narcan from law enforcement or EMS.
Unofficial data indicate 30 Iredell residents died of overdose in 2020, but that number is expected to rise once data is finalized.
"Overdose does not have to be deadly. Organizations like DACI have Narcan free to individuals that may be at risk, for family members who have loved ones in active addiction, or if someone is being treated for pain management," added Atkins.
The mayor praised DACI for helping to educate the community, connect people to services, and reduce the stigma of substance use disorder.
Kim Rangelli shared her thoughts on the loss of her husband, Jeffrey, who died at age 37 from a drug overdose 23 years ago. Though she tried to help him overcome his addiction that began raging a year into their marriage, Rangelli said her husband was surrounded by enablers who thwarted her efforts.
Rangelli left him after catching him smoking crack cocaine in their basement. "The man I loved was gone. He wasn't there anymore," she said.
Jeffrey died on December 20, 1998, on his mother's birthday. "The hole that he left in my heart is very large, and it will never heal. I miss him every day," Rangelli said.
Celebrate Recovery member Terry Stover survived an overdose in 2019 at age 63 after being hooked on prescription medication for years. Her marriage was crumbling, and her adult daughter was on the verge of cutting off their relationship to protect her own children from Stover's behavior and choices.
Stover refused to believe she was an addict. She said she had no consequences for her actions as a child and teen, and she experimented with drugs and alcohol to numb the pain in her life.
She later became hooked on hydrocodone and Xanax, and she began stealing pain prescriptions from family members. Loved ones took Stover to the emergency room on multiple occasions, and she totaled several cars in a three-month period.
Stover took 75 Xanax before her last wreck. After she regained consciousness during her last overdose, she remembered the look on her daughter's face, the tears streaming down her cheeks, and the pain in her voice.
Stover ended her speech by reading from a letter her daughter wrote explaining the effect of addiction on their family. Every day, her daughter wanted the drugged-out person her mother had become to die because addiction had taken and destroyed the mother she once knew.
"I wanted her to be out of our lives so I didn't have to deal with the next surprise. I wanted her gone so I didn't have to explain to my kids when Nana was acting funny. I wanted her gone so I could move on, move past those memories, and remember my mother."
"She wasn't my mom — she was a lie. Every promise, every denial was a lie. I had trusted every promise to quit. I was a fool."
"I was going to cut her out of our life for good. I was done. I didn't know how I was going to explain it to my kids, but I was done with the sorrow, I was done with the disappointment, I was done with the embarrassment, I was done with the uncertainty, I was done with the addiction, and I was done with her."
Her daughter ended the letter by thanking God for lifting her mother out of depression and addiction.
DACI Executive Director Jill McLelland and some family members next read the names of people lost to overdose in a new "Say Their Name" part of the vigil.
McLelland later encouraged attendees to get involved with DACI to address addiction and to get the word out about the abundant services available in Iredell County.
To close the event, Tom Underwood led the crowd in the Serenity Prayer: "God grant me the serenity to accept the things I cannot change, courage to change the things I can, and wisdom to know the difference."
In recovery groups, the Serenity Prayer emphasizes the importance of acceptance. Humans can exert some influence on the world, but over many things, they have no power. This inability to change some aspects of life can leave people feeling frustrated and full of self-pity, perhaps justifying their alcohol or drug abuse.
To fight against the way things are is a waste of energy and only leads to suffering. The prayer emphasizes that people find happiness by just accepting and working with those things that they cannot change.
Photo Gallery