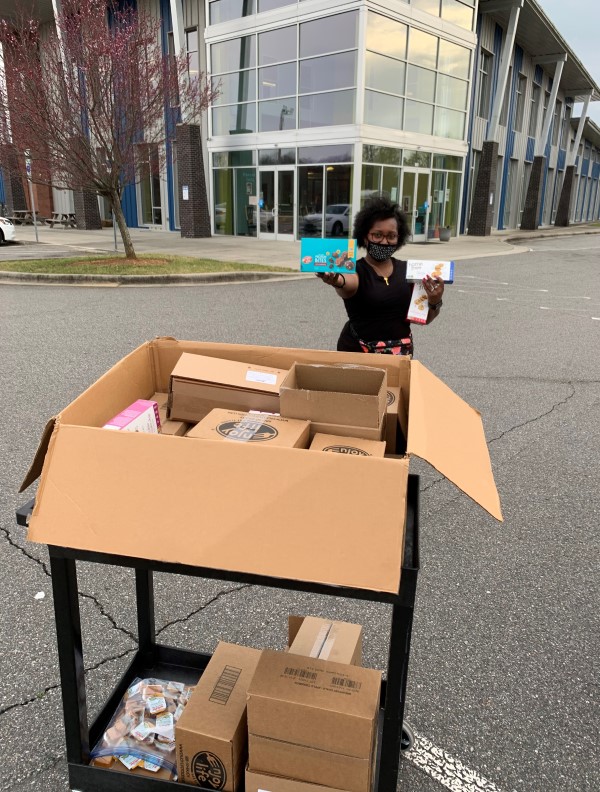 Special to Iredell Free News
"Food Is Medicine" is a common headline and second nature to many. Yet many people struggle every day to find affordable and nutritious food. Add the burden of a food allergy or celiac disease, and many times food is literally unavailable.
FOODiversity is on a mission to lessen the burden of food insecurity for individuals with these combined challenges.
Founded in June 2020 by Wendy Gordon Pake, FOODiversity aims to provide access to safe food, which so often is an unmet medical need. The organization works directly with physicians, social workers and dieticians, as well as with schools and community non-profits such as food pantries, homeless shelters, and backpack meal programs.
Food insecurity is a growing issue. Every three minutes, a food allergy reaction sends a person to the emergency room.
Consider these common scenarios:
• In the ambulance, panic rises as a child is struggling to breathe and unable to swallow even saliva.
• In college, the struggle is overwhelming when the Student Service's Food Pantry's shelves are full of products that will cause an allergic reaction. Between the full-time job, evening classes, limited bus routes, and neither the time nor money to search for safe food, the college student's response: "chips and salsa will have to do."
• At the doctor's appointment, the patient receives instructions that read: "Do not consume wheat or dairy (cow's milk), or products containing wheat or dairy." The prescription is a shot of epinephrine.
• In the classroom, Monday is always a hard day after a weekend without food.
Why FOODiversity?
More than 32 million Americans have a food allergy.
FOODiversity seeks to address the common threads found in the above scenarios. "Safe food" is the only treatment, and positive health outcomes require a great deal of resources.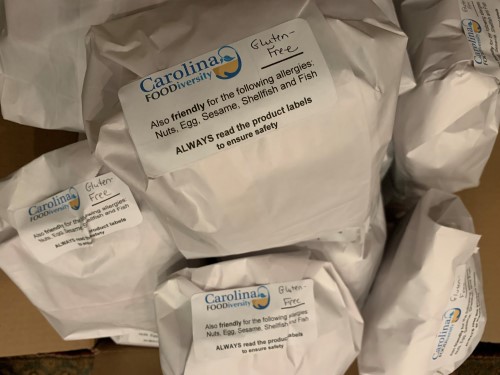 With recent studies suggesting that official food allergy diagnoses are 87 percent lower in the Medicaid population than for those with greater access, lower income families' costs are more than double for trips to the ER and hospitalizations. Lack of education (about managing the condition) and inability to access digital information (about where to turn for support) leads to a higher incidence of allergic reactions. As a result, food allergies become even more life-threatening and costly.
Having a food allergy or celiac disease significantly increases an individual's living expenses. For example, gluten-free (free of wheat, barley and rye) flour, breads and pastas typically cost four times the price of similar gluten-containing products. Dairy-free milk, such as soy, coconut, and oat, is also more expensive and rarely offered in larger economy sizes.
Emily Brown, founder of Food Equality Initiative in Kansas City, Mo., noted that a typically inexpensive pancake dinner becomes a meal that's reserved for special occasions.
Especially in food deserts – areas where healthy food is not available – convenience and grocery stores are not likely to carry allergy-friendly items. The need to go to multiple stores costs time and money. In fact, many parents report having to make a career change to care for their children with food allergies, citing 15 or more hours a week managing their child's food allergies, with the care costing over $4,000 per child with a food allergy.
From food pantries to school-related backpack programs to healthcare systems, FOODiversity is fighting to improve the health and quality of lives for those at the intersection of food insecurity and food allergy/celiac disease.
Some examples of where FOODiversity steps in:
Food pantries
In the wake of COVID-19, food pantries are busier than ever and have a difficult time accommodating all of their clients' dietary needs. Maintaining the exact product offerings to accommodate special diets, as well as storing, shelving and distributing these items, has staff and volunteers working overtime.
FOODiversity connects food pantries' clients with resources, such as FEI and Mend Hunger, for direct delivery of safe, shelf-stable foods. This way, food pantries can focus on making sure these same clients get fresh produce, meats, and other perishable items from their organizations, the clients now also have access to a consistent and reliable source of supplemental foods.
For emergency foods while clients are getting set up with direct access, FOODiversity provides grants to pantries for the purchase of allergy-friendly products. Also, through partnerships with national advocacy organizations such as Food Allergy Research and Education (FARE) and Food Allergy & Anaphylaxis Connection Team (FAACT), FOODiversity provides handout materials about food allergies in both English and Spanish and has even conducted food allergy information sessions for clients.
Schools and Backpack Meal Programs
FOODiversity collaborates with backpack programs to provide weekend food for students.
FOODiversity also keeps schools abreast of grant opportunities for Title I students that support nurses, cafeterias and PTOs in their efforts to keep the many students with food allergies safe and healthy.
Healthcare Providers
FOODiversity equips healthcare providers with food and education resources for patients. Knowing the great strain that a diagnosis can place on a family's budget, this service extends to all patients managing food allergy or celiac disease, not just those identified as food insecure. Reducing the barriers to safe food, information, and quality healthcare will hopefully lower the current food allergy price tag ($4.3 billion yearly in direct medical costs) for allergy-related hospitalizations, and doctor and ER visits.
Pake's FOODiversity inspirations include her own family's experience with food allergies and Emily Brown, founder of FEI. Brown struck a chord with Pake when she presented a webinar about the work of FEI and her vision that "all patients have access to the nutritious foods that meet their prescribed diets."
Supported by its Board of Directors – Wendy Pake (President) of Mooresville, Marcus Thomas (Vice President) of Greensboro, Ginger Missert (Treasurer) and Maureen Scott (Secretary), both of Mooresville, and Reed Pake of Boston, Mass. – FOODiversity is a recognized nonprofit (IRS 501(c)(3)), operating as Carolina FOODiversity in North Carolina and South Carolina, and also assisting clients nationwide.
Learn More
♦ For those interested in learning more, email info@carolinafoodiversity.org, or visit Facebook (bit.ly/FOODiversity) or Twitter (bit.ly/FOODiversityTweets).
♦ To make a donation: bit.ly/GiveSafeFOOD