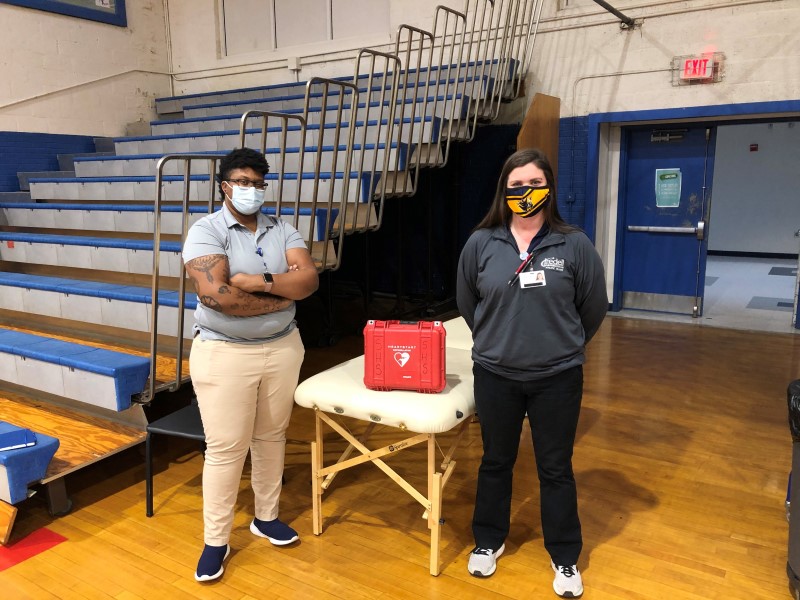 Special to Iredell Free News
As more team sports roll out at Iredell-Statesville Schools and others in the area – including basketball now underway and football set to kickoff next month – more athletes are susceptible to injuries.
But Iredell Health System's certified athletic trainers are nearby on the sidelines to help prevent injuries and provide specialized care.
Iredell Health System's Physical Therapy and Sports Medicine program partners with local high schools to provide athletic training services – bridging sports and medicine and promoting athletes' overall wellbeing.
With local sports programs recognizing the game-changing value of having certified athletic trainers on hand, the health system has provided a certified athletic trainer for South Iredell High School for 12 years, North Iredell High School for four years, and Statesville High School for two years.
The health system provides coverage for mandated sporting events and practices, performs athlete screenings, and rehabilitates athletes as needed. When necessary, it refers athletes to receive care in orthopedics, neurology, or physical therapy.
Attending games and practices, certified athletic trainers are caring medical professionals in prevention, on-field injury management, and rehabilitation of athletic injuries responsible for the health and safety of athletes. They filter emergencies, recognizing the severity of an injury and determining when an athlete should be taken to the emergency room.
In her first year after earning a bachelor's degree in athletic training from UNC-Charlotte, Sabryna Gordon provides care to athletes at Statesville High School.
"The importance of the team having an athletic trainer is understated because having someone there for emergency care and long-term care and rehab is really important," she said. "Being able to keep all of your care in-house, and knowing all the athletes as well as I do, makes it easier and makes the care much better."
Gordon works at Iredell Memorial Hospital, but she yearned for athletic training during the prolonged offseason.
"I missed it so much!" she said. "After losing that connection with the athletes, when I came back, I was like, 'Oh man, it feels so good to be back.' I love it here."
At a time when participation in high school football is decreasing in North Carolina due to fear of injury, having certified athletic trainers attendant at practices and games helps alleviate the worries of players, coaches, and parents. As injuries such as concussions, cardiac emergencies, or heat illness occur, having a certified athletic trainer on site to evaluate athletes helps prevent further injury and harm.
Iredell's certified athletic trainers encourage athletes to come to them for evaluation and education in the case of injury, preventing further inflammation of their injury and delay in their recovery. Their prevention techniques help athletes avoid injuries, and their rehabilitation techniques help athletes return to competition quickly and safely after an injury.
Caroline Sawyer provides care to athletes at South Iredell High School.
"I'm pretty excited about it because it's my first time working with a high school," said Sawyer, who was a certified athletic trainer at The Citadel in Charleston, S.C. "There was a different level I worked with before I worked with Iredell, so I am excited to see how it is."
Sawyer earned a bachelor's degree in athletic training from Appalachian State before earning a master's degree in health and exercise science from The Citadel.
"I'm just glad to be around the girls, glad to see they're able to come out and play, as well as all the boys' sports, too," she said. "I think they've been ready to come back and see their friends. That's one way they can socialize and give them something to do being physically active."
Coaches help students develop as athletes, but they shouldn't have the responsibility of evaluating injuries or administering first aid when an athlete has a serious injury. Despite this, many high schools lack a certified athletic trainer. Parents of kids playing sports at high schools without a certified athletic trainer are encouraged to ask their student's high school administrators about the role.
In their expanded role this year, certified athletic trainers are unsung heroes during a season that many considered unlikely.
"There are a lot of different things going on – changes like masks, social distancing, and cleanup," Sawyer said.
As the N.C. High School Athletic Association opens more competition in the coming months, local student athletes can focus on excelling in their sport and coaches can to stick to coaching, while Iredell Health System's certified athletic trainers will make sports safer for all athletes at the high schools they serve.
About Iredell Health System
Iredell Health System includes Iredell Memorial Hospital; Iredell Home Health; Iredell Wound Care & Hyperbaric Center; Community and Corporate Wellness; Occupational Medicine; the Iredell Physician Network and more. Iredell Memorial Hospital is the largest and only nonprofit hospital in Iredell County. The comprehensive healthcare facility has 247 beds; more than 1,700 employees; and has 260 physicians representing various specialties. Centers of excellence include Women's and Children's; Cardiovascular; Cancer; Surgical Services and Wellness & Prevention. The mission of Iredell Health System is to inspire wellbeing. For a comprehensive list of services and programs, visit www.iredellhealth.org.