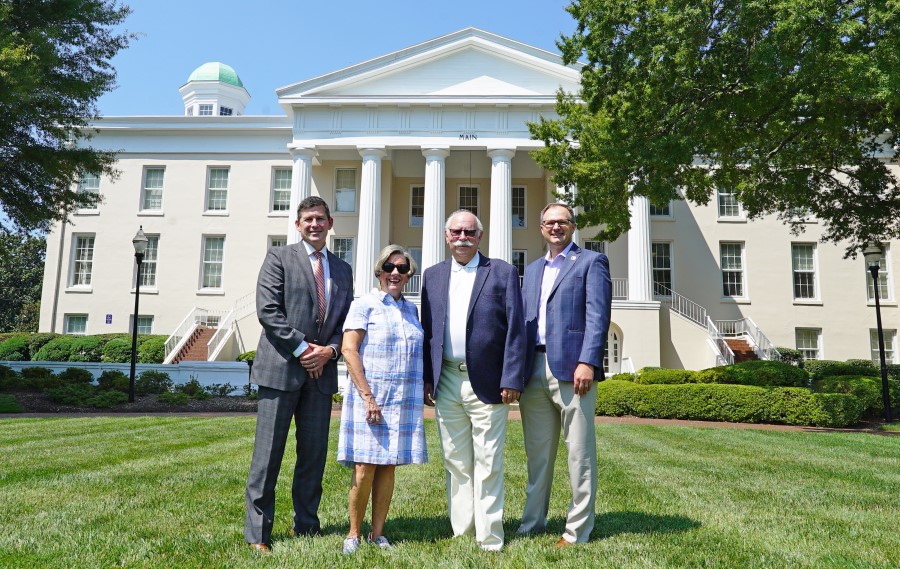 Special to Iredell Free News
Mitchell Community College students relying on scholarships to afford their education got a major boost with the announcement that long-time Statesville residents Frank and Carol Childress have committed $1 million for financial aid at the college.
Their gift, which created an endowed scholarship fund through the Mitchell Community College Foundation and Endowment for Excellence, is the second commitment of a million dollars or more this academic year, according to James Hogan, Mitchell's vice president for advancement. In the fall of 2020, the foundation announced a million-dollar commitment from Lake Norman residents John and Teresa Schaefer—a gift that inspired the Childresses.
"We talked with James last year and told him of our desire to provide scholarships for students who sought avenues of higher education after their high school graduation. We saw what the Schaefers did for the college, and that inspired us to make a more substantial commitment," Frank Childress said. "This gift is a means whereby students can have the resources to accomplish their educational goals without a financial burden. Ultimately, this gift will help our community, and hopefully it will challenge others in our community to help support the students at Mitchell."
"The first time Frank and I visited Statesville, one of the things that impressed us was the drive down Broad Street and seeing the Mitchell campus for the first time," said Carol Childress, who serves on the Mitchell Foundation Board of Directors. "We both said, 'I think I could live here.' In the 45 years we've lived here, raising our family and being involved with the community, we have learned what a vital role Mitchell plays in the lives of so many. Frank and I feel blessed that by establishing this scholarship we can help future students have the opportunity to further their education."
The Childress's gift comes as more students are considering their college options in a surging post-pandemic job market.
With the addition of the Childress's scholarship endowment, Mitchell Community College has better capacity to provide financial aid to students than ever before, according to Mitchell President Dr. Tim Brewer.
"Our students rely upon scholarship support to make their college and career goals possible," Brewer said. "Our college and community are so fortunate to receive the inspiring generosity of Frank and Carol. We are so grateful for this gift, which will pave the way for generations of students to improve their lives."
The Childress's gift was part of a record-setting fundraising year for the college and its foundation, which collectively received more than $2.7 million in gifts and commitments.
"Frank and Carol, and so many others in our community, have contributed more than ever to help our students access higher education," said Hogan. "In a year marked by turmoil and uncertainty, we are blessed to have their vote of confidence and firm support."
In addition to the Childress endowment, the college and its foundation saw the expansion of several scholarship funds and the creation of six new scholarship or program funds. Donors also contributed a record $50,957 in gifts to the Foundation's Maverick Fund, which supports immediate needs across campus.
Founded in 1996, the Mitchell Community College Foundation has provided millions of dollars in sustaining support to Mitchell Community College. The Foundation is able to offer immediate impact through its Maverick Fund, One Mitchell Scholarship, Friends of the Arts and Experiential Learning funds. Its Endowment for Excellence offers sustaining resources to fund strategic priorities, program development, and other critical needs. Learn more at mitchellcc.edu/giving.
About Mitchell Community College
Mitchell Community College serves 9,000 students annually through a variety of curriculum, continuing education and workforce development programs. With campuses in Statesville and Mooresville, Mitchell offers quality, affordable education options to residents of Iredell County and the surrounding area. For more information, visit mitchellcc.edu or call (704) 878-3200 (Statesville Campus) or (704) 663-1923 (Mooresville Campus).