Special to Iredell Free News
April is the month when Statesville and other communities take time out to recognize their outstanding electric lineworkers. There are actually two National Lineworkers Appreciation Days observed in April, and Statesville Mayor Costi Kutteh presented a special proclamation during Monday night's City Council meeting to recognize the exceptional work our city's lineworkers do every day.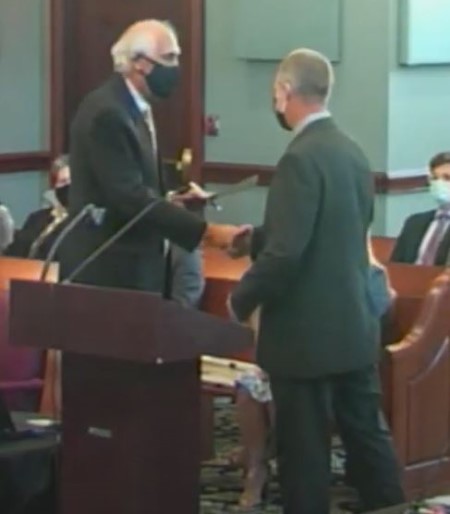 Receiving the proclamation on behalf of the Electric Utilities Department was Michael Lyon, a 15½-year employee with the department. Lyon is a journeyman lineman, a title reserved for line technicians who have "made the grade and are considered competent and highly trained in a variety of skills," said Statesville Electric Utilities Director John Maclaga. "Journeymen are proficient in working energized high-voltage conductors with gloved hands, performing new construction, maintenance or disaster repairs at a very high level."
Statesville Electric Utilities has 12 employees who are at the journeyman level.
Lyon completed the Journeyman training in five years and enjoys his job greatly.
"I look forward to coming to work every day. I love helping people," he said.
A former EMT and firefighter in Wilkes County, Lyon also likes being a part of the mutual aid crews dispatched to help restore power in other communities in an emergency.
"Part of the enjoyment is the challenge to work on a new system and get it repaired," he explained.
According to Maclaga, Lyon was "key – with the help of many others – in getting the lights back on last fall after the storm came through."
The Lineman Career Development Program is available through ElectriCities and provides a way for municipal powerline technicians to increase their skills and knowledge.
"Journeymen are very important in training the next generation of line technicians on how to collaborate and solve problems for our customers," explained Maclaga.
The Journeyman status requires 8,000 hours of hands-on experience as well as classwork and training.
In making the presentation, Kutteh praised the lineworkers for their example of "service above self" and thanked them for the "vital role" they play in "the lives of our citizens by maintaining and growing our electrical infrastructure."
Lyon received a standing ovation from those in attendance at the meeting.