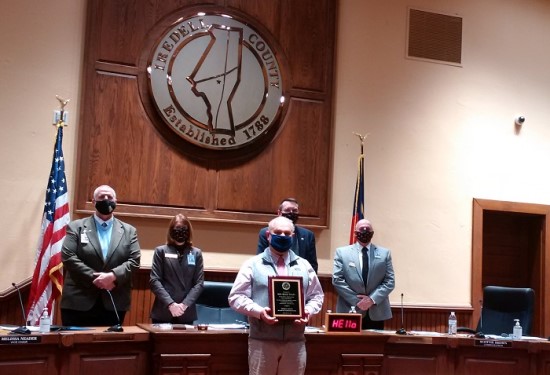 BY KARISSA MILLER
The Iredell County Board of Commissioners recently recognized former Register of Deeds Ron Wyatt for his service to the county.
Wyatt left the position to assume the position of Troutman town manager on January 4. He was appointed register of deeds in August 2016.
Under Wyatt's leadership, the Register of Deeds Office was run "effectively and efficiently and with a smile," Chairman James Mallory said.
"Although he is no longer part of the official county workforce, he is still part of the county," Mallory added. "We look forward to be able to work with you in that new capacity."
The Register of Deeds office records land deeds and other vital records, such as birth certificates and marriage licenses.
"What they do is incredibly important and it has to be done in exact precision and in adherence to the statutes," Mallory said.
The chairman also praised Wyatt and his staff for having a good rapport with the community and having great customer service skills.
Under Wyatt's tenure, he also marketed the Register of Deeds office and made improvements, while expanding the delivery of services they offer.
Commissioner Gene Houpe shared some comments from the Register of Deeds staff and then read a quote from his cell phone from Bill Baity.
"Ron "Duck" Wyatt has served extremely well as Iredell County Register of Deeds. He has assured the citizens have been treated with dignity and respect as the functions of his office were carried out exceptionally well."
Commissioner Scottie Brown said that Wyatt has taught him a lot about politics. He also said that he's not of politics just yet.
"He now has to sell himself to all the people. We are trying to get areas to grow. He is our new salesmen. We appreciate you," Brown said.
"We go back a long way…you are an inspiration to people to people with your ambition, energy level and your pizzazz. If anyone knows Troutman, I would believe that would be you. I look forward to working with you on many levels," added Vice Chair Melissa Neader.
Wyatt thanked the commissioners for their kind remarks. He also said that he has enjoyed working with the current and previous board as well as county staff.
"It's hard sometimes, as the chairman pointed out, to wear a political hat and then do the day-to-day job. When it comes down to it, we have a service to provide the public," Wyatt said, reflecting on his time as register of deeds.