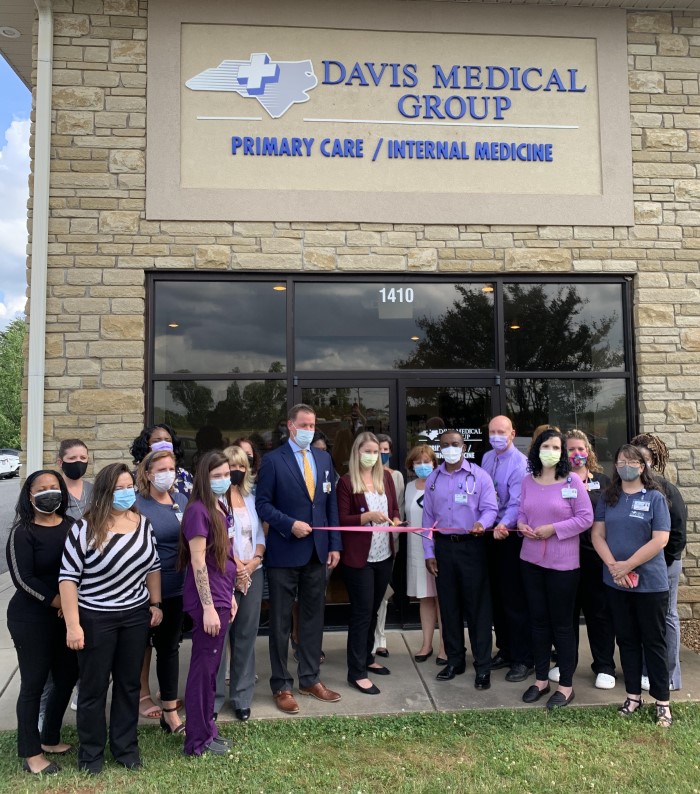 BY BRANDY TEMPLETON
Davis Medical Group's new office at 1410 Fern Creek Drive in Statesville is now officially open for business.
Located at 1410 Fern Creek Drive in Statesville, the location will be home to four local healthcare providers.
Dr. Andrea Wurzer, Dr. Samuel Inkumsah, and Rachel Hester, FNP, provide primary care, while David Zahm, PA, specializes in internal medicine. The group celebrated the milestone with a ribbon-cutting ceremony on Tuesday.
"Having the primary care and internal medicine providers there in one space is going to create a place where than can cohesively communicate if needed," said Taylor Gallyon, public information officer for Davis Regional Medical Center. "Primary care and internal medicine is crucial because those providers can focus on the totality of each patient and provide quality care for our community."
While the COVID-19 pandemic caused many people to postpone checkups and medical procedures, Gallyon said it is critical for people to address health issues.
"Our biggest push is that we don't want people to delay their healthcare," she said. "We now offer same day appointments online to make it easier on our patients."
Along with Davis Medical Group Primary and Internal Medicine, Fern Creek also houses Davis Obstetrics and Gynecology – Fern Creek, Davis Medical Group Urology – Fern Creek, Davis Medical Group Orthopedics and Sports Medicine, and Davis Medical Group Cardiology.
Telehealth and same-day appointments are available at davismedicalgroup.com.