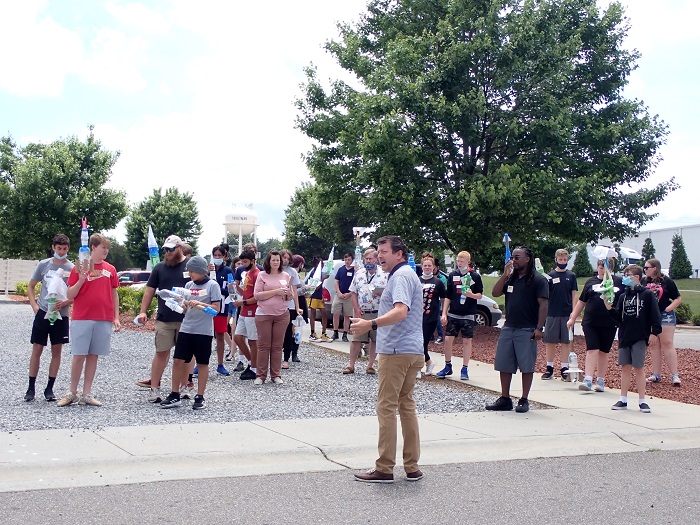 BY KARISSA MILLER
The sun was shining brightly in the sky as Johan Drost's rocket was positioned on the launchpad in the parking lot of Career Academy and Technical School in Troutman Tuesday afternoon.
CATS teachers pumped up the rocket and camp engineering design teacher Doug Knight shouted out the countdown.
The group chanted: "5 … 4 … 3 … 2 … 1," and with the release of a cord came a burst of power and a loud "BANG!"
The rocket rose up into the sky, and students were able to watch it for a long time until the parachute opened and slowed its fall. Shouts of joy and delight could be heard from other students. The payload, a raw egg, made it safely back to the ground.
"It died the first times during the trial," Drost said. "Then I added a bunch of stuff. I don't know what exactly I did. I'm glad it didn't break."
Water bottle rockets are the first step in engineering, which is exactly what Knight is hoping to teach students as part of a three-week camp hosted by Iredell-Statesville Schools with the help of the Buzz Aldrin Foundation.
"Solving problems is the basis for one of the reasons we do education. As you can see, they are engaged. With covid, the needed engagement wasn't there — we couldn't do it," Knight explained.
Knight, a Lenoir Rhyne University physics professor and Iredell-Statesville Schools board member, is also an experienced rocket coach.
"I want students to know that they can do engineering. They can do real-world problem solving and under a deadline. They can work in groups and enjoy it," he said.
For Ava Hourihan, 13, who came dressed in a NASA T-shirt and face mask, this camp is a big deal.
"I've always loved NASA and rockets since I was a kid. So this is really exciting for me," she said.
I-SS was fortunate to able to offer Rockets, Rovers and Robots camp to rising ninth-grade students free of charge.
"This is the Buzz Aldrin Foundation. It's the first camp like this so far for the nation," said space camp coordinator Joanie Winter Kamp.
The camp will cover a number of topics related to rocketry and space travel throughout the week and next, including aerodynamics, design, and some special activities related to Mars are planned for the third week.
"The whole camp is designed just for that, to teach kids about science in a fun and interesting way," Kamp said. "On the third week, the students are literally building Mars. Each week, there's a buildup of (activities)."
"Everything is hands-on activities and we received boxes of supplies and other things," she added.
The Aldrin Foundation developed the entire curriculum for the camp, and I-SS teachers received training in advance so that despite some complicated topics students are able to understand the concepts, and engage in the lessons.
Team leader teachers who are helping with the camp are from East Middle, Third Creek Middle, Lakeshore Middle, Troutman Elementary, Oakwood and West Iredell.
English Language Arts and Math and Science teachers are helping with the academic lessons are from Agriculture and Science Early College, Crossroads and Collaborative College of Technology and Leadership.
Kamp said that I-SS teachers who have been trained plan to bring the curriculum back to their schools.
Photos