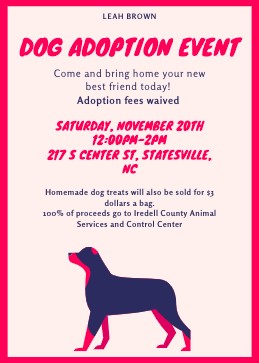 FROM STAFF REPORTS
Leah Brown was inspired to take action to help stray and abandoned dogs and cats find a loving home after seeing commercials on TV for neglected animals.
"The animals would be shivering in the cold or chained up outside, and it broke my heart seeing them in such terrible conditions," Brown explained. "I wanted to be able to help dogs and cats so they wouldn't have to suffer those circumstances."
A student at the Collaborative College for Technology and Leadership, Brown has organized an adoption event and fundraiser for this weekend for her senior project.
The free adoption event will be held from 12 to 2 p.m. on Saturday at American Renaissance School, located at 217 S. Center Street in Statesville. All proceeds from the sale of homemade dog treats as well as donations will benefit Iredell County Animal Services and Control.
"My goals with this project are to raise money for the shelter so they can provide the best care for the animals and spread awareness about adoption to decrease the amount of homelessness in dogs and cats."
After visiting the county animal shelter, Brown was impressed and signed up to volunteer to help. This project has given her a new perspective on volunteering.
"This experience taught me how to give back to my community and allowed me to be a part of something bigger than myself," she said. "Animals are very important to me, especially dogs, and I want to be able to make a difference in their lives so they can receive the best care and hopefully end up in a happy home!"
LEARN MORE
Contact Leah Brown at leahbrown144@gmail.com.