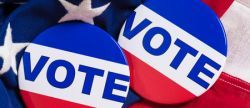 Special to Iredell Free News
Election Day is less than three weeks away for several key positions in local municipal governments and the Mooresville Graded Schools Board of Education.
Early voting in all of the races — except those in Love Valley, where early voting is not allowed — began Thursday, October 14, and runs through Saturday, October 30.
Here are the candidates:
Candidates
TOWN OF HARMONY
Mayor
♦ Lee Matney
Town Council (4 Seats)
♦ Julia Clanton
♦ N. Sankey (Buddy) Gaither
♦ C Doug Galliher
♦ S Scotty Harris
TOWN OF LOVE VALLEY
Mayor
♦ Phillip L. Baity
♦ Dannie Johnston
♦ Mark Loden
Commissioner (5 Seats)
♦ Tori Barker
♦ Wendy Benfield
♦ Linda Chase
♦ Randy Lackey
♦ Randy Ladd
♦ Gary K. Mayfield
♦ Timothy Meadows
TOWN OF MOORESVILLE
Mayor
♦ Miles Atkins
♦ Douglas T. Nesbitt
TOWN OF TROUTMAN
Town Council (3 Seats)
♦ Tonya Bartlett
♦ Felina Lyons Harris
♦ Paul Henkel
♦ Jerry Oxsher
♦ Sally Williams
MOORESVILLE GRADED SCHOOL BOARD OF EDUCATION (2 Seats)
♦ Rakeem J. Brawley
♦ Lisa Burleyson
♦ Tamiara Crowder
♦ Jay Goodman
♦ Scarlett Overbay-Inman
♦ Katie Pettigrew
♦ Greg Whitfield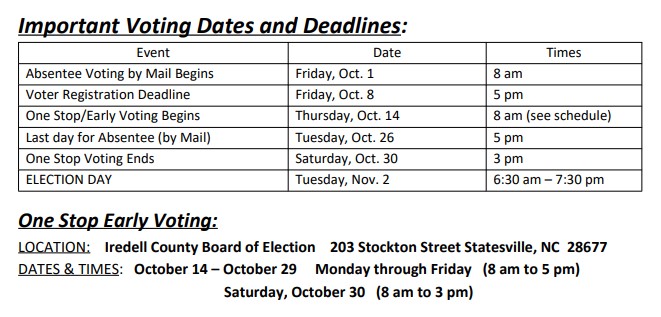 REGISTRATION
There are registration deadlines, However, N.C. law does allow a person to register and vote the same day during One-Stop/Early Voting. The voter must present proof of current residence, which includes any one of the following documents: NC Driver's license (un-expired), NC Identification Card (un-expired), utility bill, bank statement, pay check/stub, or any other government document.
LEARN MORE
You can check your VOTER REGISTRATION, print ABSENTEE BY MAIL FORMS and find your POLLING LOCATION and other local election information on the Iredell County Board of Elections website
For further information, contact the Board of Elections at 704-878-3140