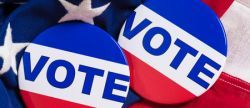 FROM STAFF REPORTS
The filing period for candidates for more than 20 elected positions in Iredell County begins at 12 noon on Monday, December 6, and runs through 12 noon on Friday, December 17.
Primary elections for one seat in the N.C. Senate and three seats in the N.C. House, along with three seats on the Iredell County Board of Commissioners, and four seats on the Iredell-Statesville Schools Board of Education will be held on March 8. Prmaries for clerk of superior court, register of deeds and sheriff will be contested the same day. The general election is scheduled for November 8.
In the City of Statesville, elections for mayor and five council seats will be held on March 8. If a run-off is needed, it will be held on April 26 or May 17.
In the Town of Mooresville, primary elections will be held on March 8, if necessary, with the election scheduled for April 26 ot May 17.
Potential Candidates
The following people have filed paperwork with the Iredell County Elections Office, which allowed them to begin raising money for the 2022 campaign prior to officially filing to run for office:
♦ Mooresville Town Commission: Lox Leach
♦ Statesville Mayor: Brian Summers
♦ Statesville City Council: James H. Pressly, Joe Hudson, Steve Johnson and William Morgan
♦ Iredell County Clerk of Superior Court: Jim Mixson and Barry Tilley
♦ Iredell County Register of Deeds: Maureen Purcell and Renee Holland
♦ Iredell County Sheriff: Darren Campbell
♦ Iredell County Commissioner: Laketha Bobish, Todd Carver, Richard Coleman, Bert Connolly, Cindy Haynes, Gene Houpe, Angela Matthews, Blake Palmer, Larry Payne, and Brad Stroud
♦ Iredell-Statesville Schools Board of Education: Justin Crews
2022 Races
Here's a rundown of the local seats on the ballot in 2022:
N.C. General Assembly & Iredell County

Municipal Elections

Thinking of Running?
For basic candidate qualifications for state and local offices, visit HERE.