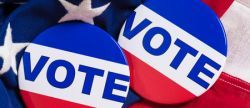 FROM STAFF REPORTS
Nearly two dozens candidates for local and state offices in Iredell County have thrown their hats into the ring for the March 2022 primary elections during the first two days of the candidate filing period.
Six Republican candidates, including incumbent Commissioner Gene Houpe, have filed to run for three seats on the Iredell County Board of Commissioners. Incumbent Chairman James Mallory and Commissioner Marvin Norman have not filed.
So far, the Statesville mayoral race has attracted just one candidate, Joseph Glasgow, and no candidates have filed for the two at-large seats on the City Council currently occupied by William Morgan and Steve Johnson.
Members of the local legislative delegation to Raleigh — Sen. Vickie Sawyer and Reps. Jeffrey McNeeley, Mitchell Setzer and Grey Mills — have all filed for another term in office. All are unopposed in the Republican primary at this point.
Sheriff Darren Campbell filed for re-election on Tuesday. He is unopposed so far, as is Clerk of Superior Court Jim Mixson, who filed on Monday.
So far, no one has filed to run for the District 1, 3, 5 or 7 seats on the Iredell-Statesville Schools Board of Education.
No Democrats have filed for local or state office.
LOCAL CANDIDATES
The following candidates have filed for state or local offices in Iredell County during the first two days of the filing period, which runs through noon on Friday, December 17:
N.C. Senate
DISTRICT 37
♦ Vickie Sawyer (REP)
N.C. House of Representatives
DISTRICT 84
♦ Jeffrey C. McNeely (REP)
DISTRICT 89
♦ Mitchell Smith Setzer (REP)
DISTRICT 95
♦ Grey Mills (REP)
NC District Court Judge
DISTRICT 22A SEAT 01
♦ Carole A. Hicks (REP)
Iredell County
BOARD OF COMMISSIONERS (3 seats)
♦ Gene Houpe (REP)
♦ Laketha Bobish (REP)
♦ Larry Payne (REP)
♦ Richard Coleman (REP)
♦ Brad Stroud Sr. (REP)
♦ Bert Connolly (REP)
CLERK OF SUPERIOR COURT
♦ Jim Mixson (REP)
REGISTER OF DEEDS
♦ Maureen P. Purcell (REP)
♦ Renee L. Holland (REP)
SHERIFF
♦ Darren E. Campbell (REP)
Town of Mooresville
COMMISSIONER WARD 3
♦ David Coble
♦ James (Toodles) Ritchie
COMMISSIONER WARD 4
♦ Lisa M. Qualls
City of Statesville
MAYOR
♦ Joseph Glasgow
COUNCILMAN WARD 2
♦ C. O. (Jap) Johnson
COUNCILMAN WARD 3
♦ Doris A. Allison
COUNCILMAN WARD 5
♦ Joe Hudson
♦ John Staford