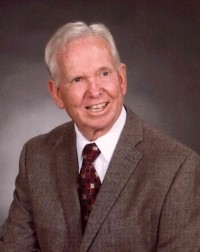 Quentin Lee Campbell, 81, of Statesville, N.C., passed away Monday, December 6, 2021, at the Gordon Hospice House in Statesville after a long courageous battle with Parkinson's disease.
He was born December 12, 1939, in Catawba, N.C., to the late Toy Noah and Blanche Plumley Campbell. He was preceded in death by one brother, Toy Noah Campbell Jr., and three sisters, Lucille Overcash, Laulie Morgan and Minnie Miller.
He grew up on a farm in Catawba County and always remained a country boy at heart. He was a 1958 graduate of Bunker Hill High School and the Real Estate Institute in Raleigh. He made his home in Lexington, N.C., for 48 years before moving to Statesville in 2017. He was a realtor for many years and owner of an Environmental Management Service for 31 years.
He was an active member of Coggins Memorial Baptist Church in Lexington, serving as a deacon and on various committees for many years. He became a member of Western Avenue Baptist Church after moving to Statesville.
He enjoyed fishing, boating and spending time with family and friends at High Rock Lake. He was a member of the Square-N-Aders Dance Club for 25 years. Quentin was a veteran having served in the U.S. Army.
Left to cherish his memory is his loving wife of 58 years, Marylin; one daughter, Teresa McGaha (Philip); and three grandchildren, Charlie, Ashlyn and Alexa Rae McGaha; one sister, Barbara Setzer (Lonnie) of Conover; two brothers, and Kenneth Campbell (Lillian) of Newton and LaRue Campbell of Manitowoc, Wis.
The family wishes to thank Hospice of Iredell County for the kindness and care he received during his illness. A special thanks also to Laura Harris, Shala Evans, Home Instead, Veronica Jeffrey, Donna Stephens and all the support staff at Hospice.
A memorial service will be held at 11 a.m. on Thursday, December 9, 2021, at Western Avenue Baptist Church with Dr. Jeff Spry and Dr. Dearl Bunce officiating.
Memorials may be directed to Western Avenue Baptist Church or Hospice and Palliative Care of Iredell County. Online condolences may be made to the family at www.troutmanfuneralhome.com.
Troutman Funeral Home is seerving the family.