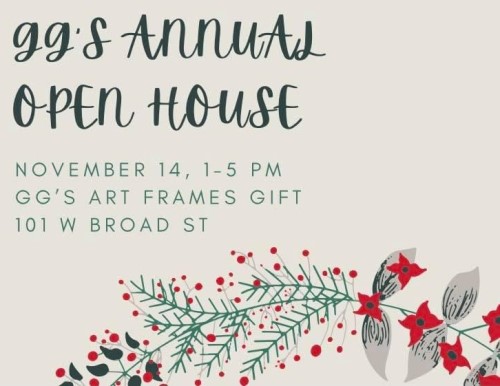 Special to Iredell Free News
gg's art frames gifts will host its annual holiday open house on Sunday, November 14, from 1 to 5 p.m. The shop is located at 101 West Broad Street in Statesville.
Clay Lunsford and friends will perform, and Oakwood Bread Company will showcase many bread options to try and buy.
Special guests include:
♦ Ken Jurney, author of The Union Grove Old-Time Fiddlers Convention: The Real Story"
This is the first book on the Fiddlers Convention written from a family member's point of view. It has a significant value from a historical perspective for an annual event that is nearly 100 years old and still going strong!
♦ Dave Childers, author of "God Sent The Dog"
The book is based on the true story of the author's experience as a law enforcement officer as well as his overseas service in the Balkans and Middle East post 9/11. Upon his return to the United States, he was diagnosed with PTSD and the only saving grace was Dita, the service dog that God sent to his rescue.
♦ Thomas P. Gill, author of "Tuesdays are for Turtles" and "Fridays are for Fish"
Gill is a retired military officer and health care executive. When not writing, he stays active by golfing, traveling, assisting military members in transitioning to civilian life, and spending time with his family on the beach.
♦ Willian "Bill" P. Pope, author of "These You Know," a compilation of short stories that attempt to deal with complex and controversial subjects.
Pope has spent his life telling stories, some true and others with the element of truth, sharing these stories with juries, his children, his grandchildren, and friends. As a beloved community leader, he looks to share stories, "My stories are not real. But I'd like to think they could be. They sound real. Don't you think?" wrote Pope.
♦ Artist Kate Lassiter
Lassiter is a Connecticut native but has lived in North Carolina since 1992. She studied design and art history in California and Switzerland and received her Bachelor of Fine Arts from the Art Center College of Design in Pasadena in 1985. Kate lives in Statesville with her husband Mike.