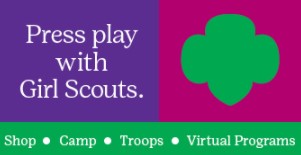 Special to Iredell Free News
Girl Scouts Carolinas Peaks to Piedmont (GSCP2P) is currently forming troops and recruiting new leaders in preparation for the new troop year this fall.
All girls in grades K-12 are invited to join, and dozens of Girl Scout Information Events are scheduled throughout western and central North Carolina for interested families to come learn more about the organization and locals troops in their area.
"While girls build on important life skills from year to year as a Girl Scout, our program is much more than that," said Jennifer Wilcox, CEO of GSCP2P. "It is also about discovering new ways to become active members in their communities, build connections with friends and gain experiences they will remember for years to come. We want to see all girls have the opportunity to experience Girl Scouts and the life-changing moments it can offer."
Through STEM activities and outdoor adventure programs to creative arts and impactful service projects, Girl Scouts is a way of life that brings out the best in a girl, even in the most challenging times. And while she is busy learning about entrepreneurship and money management, she is also realizing how she can make her world a better place.
The Girl Scout organization is guided largely by adult volunteers and, every year, GSCP2P counts on parents, caregivers and community members to step up and be the lead in cheering girls on as they select exciting hands-on activities and projects, try new things and earn badges in a troop setting. This fall, GSCP2P is offering free memberships to all adults who become a new troop leader. Interested adults can learn more at www.girlscoutsp2p.org/volunteer.
Making sure girls see and have opportunities to reach their full potential is what Girl Scouting is all about. So is your girl ready to shine and create the world she wants to see? To join today, visit www.BeAGirlScout.org. You can also find out more information about Girl Scouting in your area or starting a new troop by contacting info@girlscoutsp2p.org or 800-672-2148.
Girl Scout Information Events near you can also be found on the online event calendar at www.girlscoutsp2p.org.
About Girl Scouts Carolinas Peaks to Piedmont
Girl Scouts Carolinas Peaks to Piedmont, a United Way agency, is one of 111 councils nationwide chartered by Girl Scouts of the USA to deliver Girl Scout program within specific geographic boundaries. The local council serves nearly 7,000 girls and 4,500 adult volunteers in 40 counties and maintains three camp properties and four service centers offering unique experiences for girls and adults. For more information on how to join, volunteer, reconnect or donate to GSCP2P, call 800-672-2148 or visit www.girlscoutsp2p.org.