Special to Iredell Free News
Human Resources Director Mildred Minor is retiring this month following more than 48 years of public service with the City of Statesville.
Right out of college, Minor took a job in 1972 with the City's Community Development Department as the assistant director and worked there until the program was abolished in 1983.
That's when she was hired as the Human Resources Director by then City Manager Dale Emerson.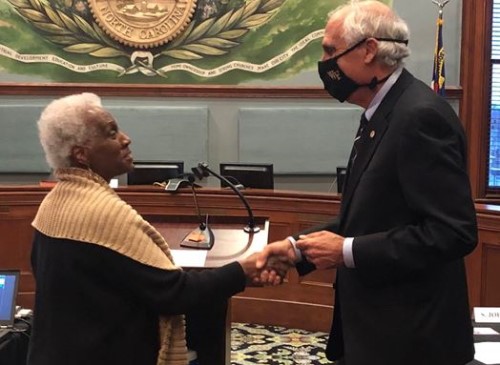 Recently married and anxious to impress her new colleagues at her first department head meeting, Minor nervously introduced herself using her maiden name. "There I was trying to make a good first impression and I couldn't even get my name right," Minor recalls.
Working under eight different city managers and having numerous office locations, Minor has seen many changes in the city's employee policies and processes.
Through it all, "I've benefitted most from being able to make a difference in someone's life. I have been able to sit down with employees and help them understand why things happened the way they happened. I have sat and listened and walked them through the different processes," she explained. "It's been very rewarding."
Minor has seen a number of changes in the human resources profession during her tenure.
"Technological advancements associated with the way we do things in HR," have been challenging,she said. "Also there have been many changes in market conditions, HR laws and regulations. I have been an advocate for the need to stay competitive in the job market in regard to pay. That has been a huge challenge."
But Minor said she has "always enjoyed the opportunities to engage and develop lasting relationships with employees from all levels within the organization as well as being afforded the opportunities to establish relationships with external groups. And I know I will take them with me into retirement."
Retirement for Minor means more time for teaching piano lessons and sharing her musical talents with her church, Logan Presbyterian Church, USA, where she serves as minister of music.
"And of course, I'm going to spend more time with family. I'll be driving my car up and down Interstate 40," she added, referring to visits with her son, Trevor, and grandson, Skyler.
Minor is a Statesville native, who attended N.C. A&T, UNC-Charlotte and Mitchell Community College. She is a member of the N.C International Personnel Manager's Association, the International Personnel Manager's Association, Organizational Manager's Personnel Association and has served on the Iredell United Way, Employment Security Commission's Advisory Committee and Iredell County Personnel Association.
City Manager Ron Smith said he has enjoyed working with Minor and considers her an important part of the city's management team. "I appreciate her perspective and understanding of the human resources department," Smith said. "Her leadership will be missed."
Minor was honored at last week's City Council meeting with a special proclamation by Mayor Costi Kutteh. Her last day is March 31.
During the meeting, Minor thanked her staff for their support.
"These are my right-hand people," she said. "These are the people who keep your city moving."