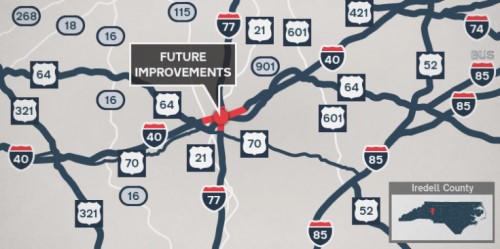 Special to Iredell Free News​
Starting Monday night, N.C. Department of Transportation crews will have two nights of intermittent closures on Interstate 77 for a bridge construction project.
On Monday and Tuesday nights, from 11 p.m. to 5 a.m., traffic on I-77 will be stopped near the U.S. 64 overpass for 30-minute intervals to allow crews to set girders for the second phase of the new U.S. 64 (Davie Avenue) bridge.
Southbound traffic will be stopped Monday night and northbound traffic will be stopped Tuesday night. After each 30-minute closure, crews will reopen the road to allow traffic to clear before resuming work.
Motorists should plan for delays and use caution while driving through the work zone.
This is part of a $260 million project that began in 2012.