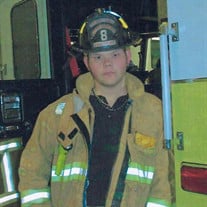 Derek Eugene Poole, 35, of Statesville, N.C., passed away on August 9, 2021, at Atrium Health – Cabarrus in Concord. Born on December 30, 1985, in Iredell County, he was the son of Tony Eugene Poole and Martha Jane Teaster Poole.
Derek was always "full of life." He was a graduate of West Iredell High School and attended Mitchell Community College. Growing up, Derek had a love for fire trucks and when he was able he stepped into "his calling" to become a firefighter.
In January of 2006, Derek joined the Catawba Fire Department, where he was Rookie of the Year. In 2007 he received the prestigious honor of being awarded Firefighter of the Year. Derek went on to further his career by joining the West Iredell Fire Department in 2008. Derek enjoyed his "fire family" — as he called them — and loved spending time with his family, especially at family gatherings.
Derek enjoyed listening to classic rewind music from the 1970s, 80s and 90s which included Bob Seger, Whitesnake, Kansas, Rush, Neil Young, and Journey. He also had a love and passion for listening to his scanners and the ECOM calls that would come in.
Derek was preceded in death by his sister, Misty Von Teaster; and his uncles, David Teaster and Carl Teaster. Those left to cherish his memory include his parents, Tony and Martha Poole; his aunts and uncles, Nancy and Bill Martin, Mary Pruitt, Hattie and Doc Cauldill, Harold and Naoma Teaster, Sandy and Jeff Stewart, and Janice Poole; many cousins; and his dog named "Baby."
Derek will lie in state from 11 a.m. to 12 noon on Saturday, August 29, 2021, at Nicholson Funeral Home, where the family will receive friends. A graveside service will be held at 1 p.m. at New Bethany Baptist Church Cemetery, 106 Eufola Road, Statesville, with Pastor Bill Mason officiating.
For those wish, friends may pay their respects to Derek and his family from 12 to 4 p.m. on Friday, August 27, 2021, at Nicholson Funeral Home.
In lieu of flowers, memorial contributions may be made to Catawba Fire Department, 108 N. Main Street, Catawba, NC 28609 or to the West Iredell Fire Department, 2136 Old Mountain Road, Statesville, NC 28625.
Nicholson Funeral Home has the honor of serving the family. Online condolences may be sent to the family at www.nicholsonfunerals.com.