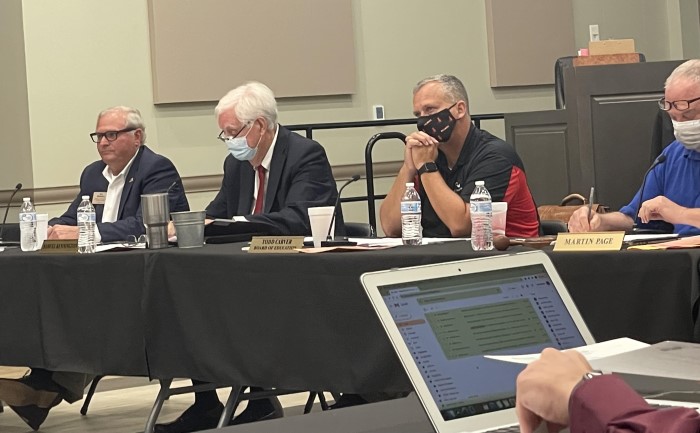 BY MIKE FUHRMAN
Confronted with increasing numbers of students and staff members who have tested positive for COVID-19 or been forced to quarantine due to public health protocols, the Iredell-Statesville Schools Board of Education voted to tighten the district's face mask requirements on Tuesday.
Board members Sam Kennington, Charles Kelly and Bryan Shoemaker joined Chairman Martin Page and Vice Chairman Todd Carver in voting to require that student and staff medical exemptions for face masks be signed by a medical professional. Board members Bill Howell and Doug Knight, both of whom previously voted against requiring masks in schools in defiance of state guidelines, abstained from the vote.
All district administrators and school board members — except Howell — wore face masks throughout the meeting.
"We've got to try something or we'll be closed down (to in-person learning) by the end of the week," Page said. "I'm not sure we won't be."
The vote came after Superintendent Jeff James told the board that the jump in staff and students testing positive or having to quarantine was "astronomical." More than 3,000 students are currently quarantined, and about 380 staff and students have tested positive for COVID-19.
Administrators from the central office spent Tuesday — the first day after Labor Day weekend — working in schools to help with contact tracing to determine which students would have to quarantine for seven days after being potentially exposed.
Boen Nutting, the district's chief strategic planning and student services officer, was among those who worked to help the frontline nurses on Tuesday.
"It's like nothing I've ever seen," she said during the meeting. "I wore two masks. It's a little scary."
Principals and assistant principals have been forced to drive school buses after regular drivers have tested positive or been exposed.
Meanwhile, more than 800 students across the district have turned in medical waivers, but perhaps 700 of those were signed by a parent, school officials said.
Those students will now have until Monday, September 13, to bring in a medical exemption signed by a doctor, physician assistant, psychologist or psychiatrist. Otherwise, those students will have to begin wearing masks.
Carver said the district's priority was to give students the best chance possible to learn in-person. He lamented that the board had opted for an optional mask policy to begin the school year.
The board voted last week during an emergency meeting to make masks mandatory in schools for staff and students after COVID-19 cases spiked. Six schools where 30 percent or more students were forced to quarantine have been moved to remote learning. Tightening the medical exemption is the district's latest course correction.
"This is a decision to either keep the schools open or not keep them open," Carver said. "It's that simple."