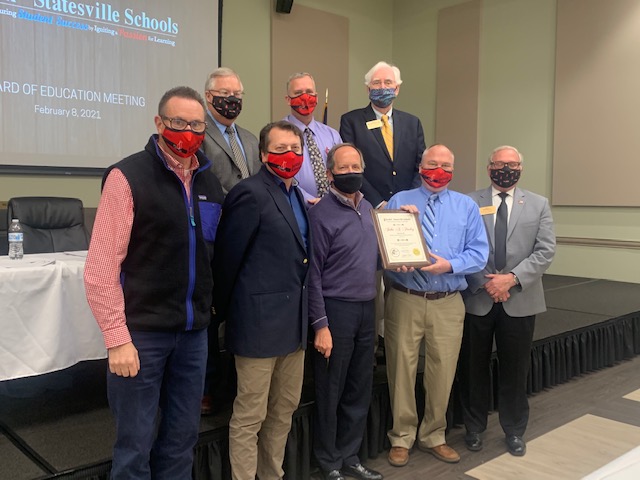 BY KARISSA MILLER
The Iredell-Statesville Schools Board of Education presented former N.C. Rep. John Fraley with a plaque during Monday's meeting in appreciation for his service and contributions to public education.
Fraley, who represented Iredell County's 95th District in the N.C. House, did not run for re-election in 2020. He served in the General Assembly for six years.
"He's done a great job for public education in the many years he's served," said Superintendent Jeff James. "It's not an easy job. It's a labor of love."
Added Chairman Martin Page: "We cannot begin to say thank you for what you've done for us and Iredell County."
While serving in Raleigh, Fraley often called or returned home to meet with dairy farmers, Mooresville Graded School District leaders, Iredell-Statesville School leaders, county commissioners and other groups when issues came up.
Over the past few years, Fraley developed a reputation as an elected official who passionately served his constituents and North Carolina. Page described him as a thoughtful leader and said he witnessed firsthand how Fraley served others.
"You've made the communication between our school system and our representatives tremendous," Page said. "I think it has rubbed off on others."
Fraley said that he was appreciative of the plaque.
"The appreciation belongs to all of you," he said.
Fraley then shared a story. He recalled a meeting with I-SS Director of Communication and Development Boen Nutting in 2014.
"I was knocking on doors — running for office and I ended up at Mrs. Nutting's home," Fraley said. "She spent about 30 minutes with me on the front porch talking about education. I didn't have a clue who she was."
Nutting asked Fraley (and other lawmakers) to give the school board and district time to implement any future mandates or changes to public education.
Fraley said that he's always remembered that conversation and it's something that's guided him during his time in Raleigh.
My Future NC
Fraley gave a presentation during the meeting about his work with My Future NC Commission.
My Future NC is a statewide nonprofit organization focused on North Carolina's higher education attainment in 2017.
"If we don't do more in the State of North Carolina about post-secondary attainment and aligning education programs with what's needed in industry and business then we are going to have a big problem," Fraley said.
The crux of the matter, Fraley said, is that two out of every three jobs require some form of post-secondary education. It's estimated that 65 percent of the jobs that students in school today are going to have don't even exist today.
Fraley said he had a hard time understanding what that meant until he had someone from another education event explain it to him.
Eight or ten years ago, if someone told you you were going to be an App developer you wouldn't have a clue what that meant, an Apple representative told him.
In order to meet these future workforce needs, the county needs roughly 67 percent of our 25 to 44 year olds to have a post-secondary degree or certificate. Currently, that figure is about 49 percent.
Everybody has got to get together on this or else many people in the community will find themselves unable to obtain a job, Fraley said.
My Future NC is also trying to be the largest FASFA completer in the state and coming up with a credential catalog to identify high demand occupations for students and parents.
"Iredell County has a tremendous opportunity to jump into this," Fraley said. "We have two wonderful school systems that perform extremely well."
Following the presentation, the school board unanimously passed a resolution to support the My Future NC attainment goals and initiative.
"This is the future of our state and the future of our country. This must be one of job No. 1's to provide for kids. I want us to take this very seriously," Page said.
The superintendent said the focus in education doesn't need to just be on four-year degrees but that kids need to be exposed to all opportunities out there.
"It's a great opportunity and we are poised much better than many other districts," James said.