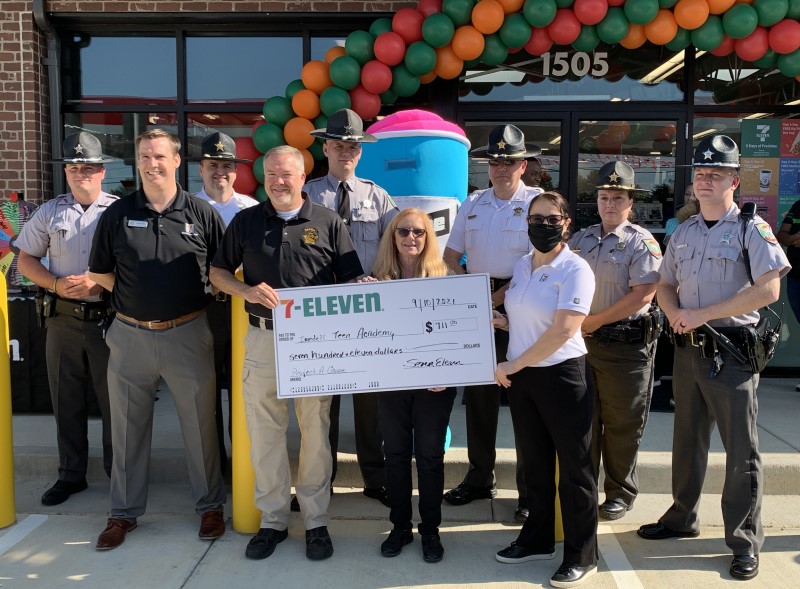 BY BRANDY TEMPLETON
The staff at the new 7- Eleven store located at 1505 Salisbury Highway in Statesville celebrated the store's grand opening by making an investment in young people.
During a ribbon-cutting ceremony on Friday, 7-Eleven representatives presented the Iredell County Sheriff's Office with a check for $711.
The "Project A-Game" grant stems from the company's "community outreach program created to provide meaningful youth development opportunities through education and play so children establish a strong foundation that supports their future success," 7-Eleven representative Christina Here explained.
The company supports schools, youth sports programs, and community organizations through the grant program, which is funded by local franchises and 7-Eleven.
Since the program's inception, 4,800 grants have been awarded worth more than $3 million. The grants have helped underwrite math and science projects, tutoring, school supplies, and sports equipment.
Representatives from the Statesville franchise chose to support the ICSO Teen Academy because they believe it's a good program.
"Obviously, any time the community — especially businesses — take time to invest in what we're doing, such as the Teen Academy, they understand the investment … in our youth," Sheriff Darren Campbell said. "We're thankful they chose us."
Captain Matt Burleyson said that the money will be used to pay for printed materials, T-shirts, and other supplies needed for the Teen Academy.
Statesville Mayor Costi Kutteh, N.C. State Highway Patrol troopers, and city council members were also on hand for the event.