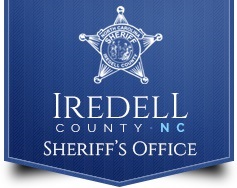 BY KARISSA MILLER
Iredell County Sheriff Darren Campbell has presented a $20.3 million budget request for 2021-2022 to the Iredell County Board of Commissioners.
"This year our budget you will see an increase on the sheriff side and a decrease on the jail side," Campbell said during the board's budget workshop last week. He credited the county's finance department with making reductions that can be carried over from the current fiscal year.
Total expenses for the Sheriff's Office and Iredell County Detention Center are up 1.99 percent, the sheriff said.
Sheriff's Office budget
The sheriff's budget request represents a 6.86 percent increase over last year's budget. The county was able to help the sheriff carry over $382,700 from last year's budget into next fiscal year, according to the county finance department.
Campbell's request includes nine positions in the Sheriff's Office: seven School Resource Officers (SROs), one Information Technology position and one detective position.
The seven SROs will be funded the first year through a grant obtained by Iredell-Statesville Schools. An agreement to work on a 50/50 funding plan with I-SS will be developed for years 2-4 of the grant.
Other items in the sheriff's budget request include:
• Replacement of 26 marked vehicles and six unmarked vehicles,
• Four new marked vehicles and accessories,
• Contactless Fingerprint system; and
• Axis Pole Camera system.
Detention Center Budget
The funding request for the jail is $11.4 million for 2021-2022. This represents a 5.62 percent decrease over last year's $12.1 million budget.
The sheriff was able to carry over around $752,000 from last year's budget into next year's budget.
His request includes two new positions in the jail, including one bailiff for the courts and one detention captain. Other items include two marked vehicle replacements and accessories, a copier replacement and two restraint chairs.
Commissioners consented to the sheriff's spending plan. The board is expected to conduct a public hearing and adopt the 2021-2022 proposed budget in June.
Crime Rate Declines
Campbell cited an overall 40.45 percent crime decrease in crime since 2014. He also mentioned the important role that SROs play in schools.
"They build relationships. Kids are learning that cops are not bad," he said.
"That's a big thing. When those kids build relationships early, that will reduce crime rates," Campbell added.
Campbell not only advocated for SROs, but also advocated for all sheriff's office employees.
He asked commissioners to make sure salaries are competitive with their competition in order to boost morale and retain employees.