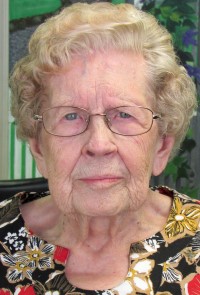 BY CAROLYN SHERRILL
Three words best describe Vera Grose Webster: she is a lady of Faith, Love and Service. She has deep roots in Iredell County and had a successful career in secretarial education. These three words reflects a life well lived by the former resident of northeastern Iredell County and long-time resident of Statesville.
Yes, there is no one else like her. She has been blessed with gifts that only she could give the world. She has shared her blessings with others.
Vera will celebrate her 100th birthday on July 8, 2021. Before celebrating her birth, one needs to pause and unravel the past 100 years of memories that reflects from life. Vera was born the daughter of Joseph Stanley Grose and Ina Steelman Grose. Her only brother was the late Beecher Hoyte Grose Sr., with whom she shared a close bond.
In her early years, Vera attended and graduated from Harmony High School. She then earned a Bachelor of Science Secretarial Administration Degree at the Woman's College of the University of North Carolina, in Greensboro. Teaching was a gift that came quite naturally to Vera. And the payoff was enormous — for both her students and herself.
She married Charles L. Webster, and they had one son and a grandson. After a period of time into her marriage, Vera decided to begin her teaching career and was hired to teach at Mocksville High School in Davie County.
Her career path then brought her back to the Iredell County Schools. Mr. Tom Poston hired her and she became a teacher at Celeste Henkel High School in western Iredell County. She taught for nine years at Celeste Henkel, and then transferred to Statesville Senior High School, where she taught until her retirement.
She had an impact on students in their high school secretarial classes of study. As a teacher, she realized that the expectations she had for her students would greatly affect their achievements in life.
She viewed collaboration with students as a way to learn from them about their plans for their education and what job fields they would like to enter into. Thus, Vera helped to open many doors in local businesses or encouraged her students to enter into local community colleges to better themselves and encouraged eye-opening job skills that could be put to good use in any employment.
Many students and teachers remember Vera as a dear teacher and dear friend. In her classroom, each person's ideas and opinions were valued to her. Students felt safe to express their feelings and learned to respect Vera's guidance. She created a welcoming learning environment for all of her students.
Teaching was the only thing she ever wanted to do, and she is so proud of her grown students. Working for many years as a sponsor of the junior or senior classes, she holds special memories of this work. She has made a quite impact on so many students and other teachers in Iredell County over the last 100 years.
Vera's 48-year career teaching was recognized by the Iredell-Statesville Schools for her exemplary service to the students of our local communities along with her professionalism and dedication to public education in Iredell County. Presently, she is the oldest known living retired teacher from Iredell County.
After retiring from teaching, Vera served the community by volunteering at Iredell Memorial Hospital, serving in a crochet prayer shawls ministry with hundreds of items given to patients each year. Vera learned this art from her mother over the years.
Personal afghans, scarves and blankets were given as needed to the many cancer patients, and her crocheted caps were given to newborn babies. Only in this last year have her hands not allowed her to work with these projects, but she is very much aware of the blessings that the Lord placed in her life over all these years with the art of crochet. She was also very gifted with cross-stich art projects.
Vera has been a Statesville Civitan member over the years and a loyal member of the GFWC of NC Statesville Woman's Club for numerous decades.
Faith has carried Vera many years. She has been a member of First Baptist Church, Davie Avenue, of Statesville. As an active member, she was always working diligently with her talents and gifts as a servant of God. She is one of the oldest members of this congregation.
As you reflect on Vera Grose Webster's life and her contributions to our community, may we each share our dear memories and direct our sincere blessings to her.