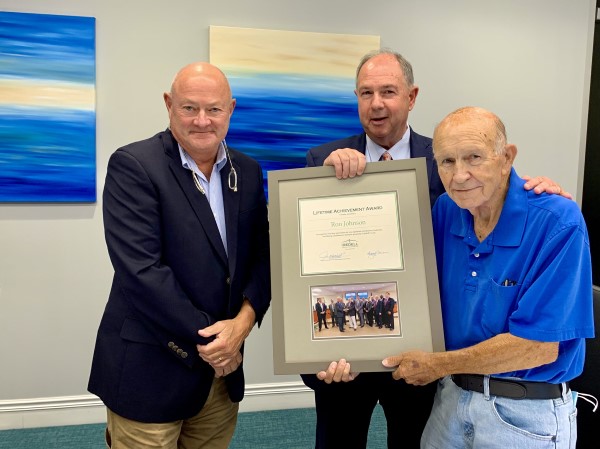 Special to Iredell Free News
Iredell County Economic Development Corporation (Iredell EDC) held a virtual annual meeting on August 25. The annual meeting brings together leaders from across the county to celebrate the accomplishments from the previous year and set strategic priorities for the upcoming year.
This year's meeting included a distinguished panel of leaders from growing industry sectors in Iredell County. Clyde Wood, Network CEO for Lake Norman Regional Medical Center and Davis Regional Medical Center, led the industry discussion with Jennifer Hritz, senior director of Walmart eCommerce Fulfillment in Troutman, and Rita Lindsay, general manager of Doosan Bobcat Portable Power Business in Statesville. The three speakers shared remarks on recently announced growth plans, workforce, operations, and strategic priorities for Iredell County.
Iredell EDC President & CEO Jenn Bosser shared highlights from the 2020-2021 Annual Report, focusing on activities and accomplishments focused on the organization's six key pillars: Existing Industry & Retention, Workforce & Talent, Business Development, Product Development, Marketing & Communication, and Collaboration.
The organization and community accomplishments included:
♦ Supporting 213 project requests, representing a 39% increase over the previous fiscal year,
♦ Capturing 64 new and expanding announcements representing the creation of 1,543 jobs and investments totaling $550 million, and occupying 3,214,847 million square feet,
♦ Continuing the existing industry and retention program with 156 engagements, assisting 24 small business, and resulting in 230 referrals,
♦ Publishing of Iredell EDC Business Resource Guide, featuring over 100 resources,
♦ Hosting a series of virtual career fairs to assist with hiring needs,
♦ Launching a new strategic plan and Case for Investment with goals and objectives around key pillars, and
♦ Surpassing the private sector investor campaign goal with the addition of 20 new investors and $60,000 in investment.
Iredell EDC's Board Chairman Jim Marshall shared accomplishments during his three-year term. Marshall led the organization through the merger of Statesville Regional Development and Mooresville-South Iredell Economic Development Corporation in 2018. Under Marshall's leadership, Iredell EDC expanded its efforts in workforce development, enhanced the existing industry program, and announced projects representing the creation of 3,700 jobs and investments of $1 billion in Iredell County.
Marshall introduced incoming Chairman Bob Palmes, vice president of Business Development at G.L. Wilson Building Company, and the other fiscal year 2021-2022 executive committee officers; Vice Chairman David Alexander, J.T. Alexander & Son; Treasurer Paul Cook, First Citizens Bank; Secretary, Jeff Cernuto, Princeton Communities, and Past Chairman, Jim Marshall, blueharbor bank.
Current board member Ron Johnson was recognized by Marshall. Johnson was given a Lifetime Achievement Award for his commitment to economic development and prosperity in Iredell County. He has served in numerous leadership roles throughout his career, including the Mooresville Convention and Visitors Bureau, Mooresville-South Iredell Chamber of Commerce, Mooresville-South Iredell Economic Development Corporation, Mooresville Downtown Commission, Mooresville Christmas Parade, and South Iredell Community Development Board.
"Iredell EDC realizes the benefits of working together in partnership," Marshall said. "We have accomplished a lot during my tenure by working together and look forward to continued growth with this solid foundation."
"The past months have not been easy for companies in our community and region, both large and small have struggled to maintain operations while keeping employees and customers safe. Our existing industries and our leaders have demonstrated resiliency, innovation, and perseverance in the face of obstacles," Bosser added. "Iredell EDC has been a partner to help our companies and clients navigate these uncertain times. We remain committed to our mission of economic growth and stability by supporting the creation of jobs and cultivating investment."
Lake Norman Regional Medical Center and Davis Regional Medical Center were the presenting sponsors for the event.
Video
About ICEDC
Iredell County Economic Development Corporation is a public-private partnership that promotes economic growth and stability in our community by supporting the creation of new jobs and encouraging investment.  We accomplish this through new business attraction, support of existing industry, building a world-class workforce, and collaboration with our community to build prosperity for all.  For more information visit, www.Iredelledc.com.