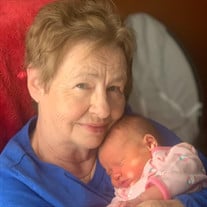 Barbara Hartness Millsaps, 78, of Shelby, N.C., passed away on Monday August 30, 2021, at Atrium- Lincoln Health in Lincolnton, N.C. Barbara was born December 9,1942, in Iredell County to the late Thomas Edward Hartness and Cleo Marlow Hartness.
Survivors include two sons, Chris Millsaps (Beverly) of Gaffney, S.C., and Shawn Millsaps (Jeri) of Greensboro, N.C.; a daughter, Lisa Stegall ( Chuck) of Harmony, N.C.; three Brothers, Ronald Hartness (Opal) of Statesville, N.C., Donald Hartness ( Brenda) of Stony Point, N.C., and Dennis Hartness (Diane) of Statesville, N.C.; a sister, Cathy Hartness Dishmond (Richard) of Statesville, N.C.; five grandchildren Jessica (Matt) Billy, Gabriela, Thomas, and Emily; five great grandchildren, Kayden, Tessa, Ryleigh, Lorenzo, and Emilia; and extended family Linda Morales and Shirley Millsaps.
Graveside service will be conducted at Mountain View United Methodist Church in Statesville on Thursday September 2, 2021, at 2 p.m. Pastor Sarah Fisher will officiate. No formal Visitation will be held.
Chapman Funeral Home is serving the Barbara Millsaps family.