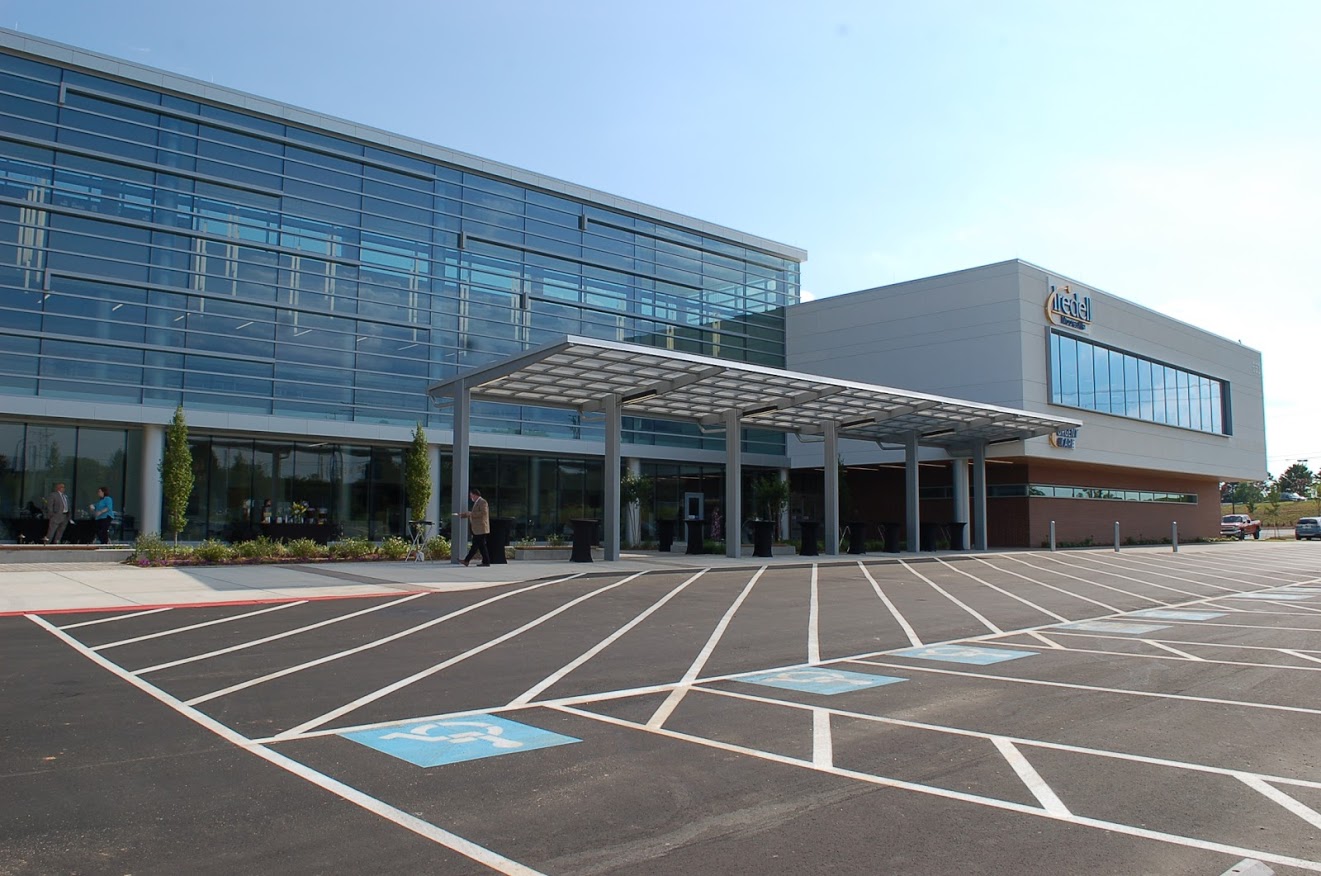 BY DEBBIE PAGE
debbiepage.iredellfreenews@gmail.com
At an open house on Thursday afternoon, Iredell Health System officials and staff proudly showed off their new gleaming, state-of-the-art facility at 635 Bluefield Road in Mooresville. This new healthcare option for the area will open on Wednesday, June 2.
Iredell Health System President and CEO John Green said that he "is so excited to get to this point. The construction team did a fantastic job, to be on budget and on time, and it's knock-down, drag-out beautiful."
"We are high-touch and high-tech. This campus gives us an opportunity to grow and change. Who knows where healthcare is going to be ten years from now? We have the square footage here to provide needed services."
"We want to be the destination for healthcare needs in Mooresville and southern Iredell," Green added.
MEETING COMMUNITY NEEDS
Sixteen months after the groundbreaking, the 68,000-square-foot facility on 17.2 acres is ready to serve the community, despite the strains of the pandemic on IHS, according to Meagan Kowalski, director of Planning, Community Relations & Marketing.
"We had every reason to stop this project while we focused on COVID, but the healthcare needs of the Mooresville community did not stop just because there was a pandemic. We had to continue with this because this community deserves it and needs it."
"Iredell Health System is owned by the citizens of Iredell County. Our original charter said we are to care for Iredell County, and that's not limited just to Statesville," she said. "This building is here because the community asked for it, Urgent Care in particular, so we purchased the land in 2018, not knowing exactly what we were going to put here."
Iredell Memorial Hospital was built in Statesville, then the county's largest population center, but now the southern end of the county is burgeoning.
"As we watched the population explode in Mooresville, we recognized the need to have more healthcare in Mooresville," said Kowalski. "We added physician offices, but they weren't enough."
"I'm proud that we listen to what the community needs," added Kowalski. "We are constantly looking and reviewing what we need to do to meet citizens' healthcare needs and to continue to improve upon care."
The input from 140 trustees from throughout the county lets IHS know what citizens really need. Focus groups and board members overwhelming asked for after-hours Urgent Care for this area.
"Our whole goal is that people do not have to travel far to get their healthcare. People here will not need to go to Statesville to get the same level of care for many things."
Kowalski also noted IHS's strong commitment to serve others. "We do a lot of charity care and put a lot into the community. As a nonprofit, after we cover our expenses, everything goes back into the community."
FACILITY DETAILS
The facility's lobby, featuring comfortable seating groupings near a sunlit glass wall, features several check-in areas for the 24-hour Urgent Care, Imaging Services, Occupational Medicine, and, coming in July, Ambulatory Surgery.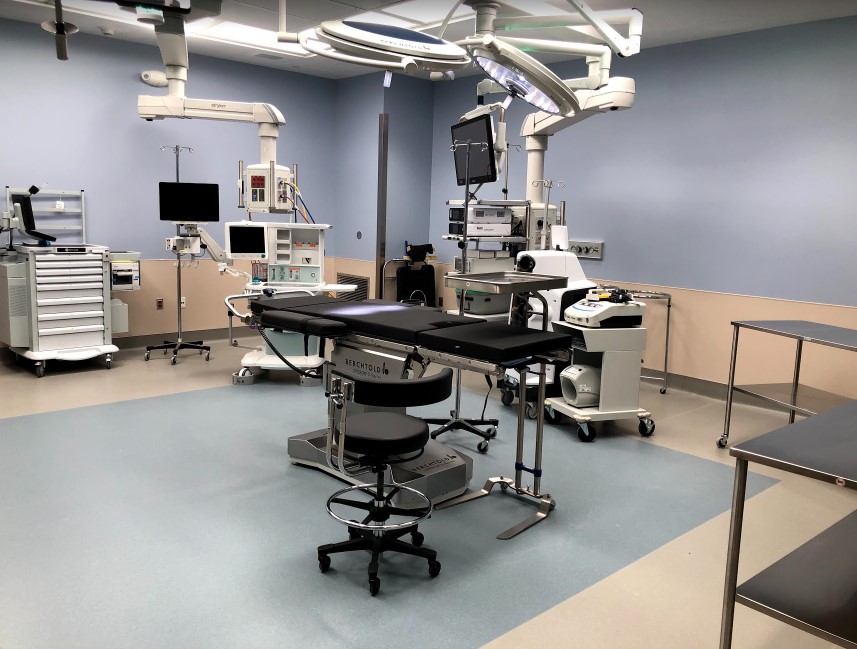 The Urgent Care, the only one in Mooresville operating 24 hours a day, has a separate waiting area and features nine exam rooms and a comprehensive high-tech lab that does an extensive array of rapid testing, including metabolic panels, urinary analysis, pulmonary functions, and viral testing.
The Occupational Medicine program, under the supervision of Medical Director Dr. Joseph Wolyniak, performs pre-employment screenings, drug testing, and worker's compensation needs, moved to the new facility from its previous location next to Aldi's.
Stephanie Wick, clinical coordinator of the Surgery Center, said her department will offer same-day ambulatory procedures in areas such as ear-nose-throat, minor orthopedics, gynecology, urology, and general surgery such as hernia repair when it opens in July.
The surgery services area features two large high-tech operating suites, with space for two future additional suites, as well as a state-of-the-art instrument sterilization area.
Pre-op and post-op sections have 12 patient bays featuring comfortable beds and a dedicated canopied pick-up area for patients to exit post-surgery.
Any area surgeons interested in using the center can sign up through IHS's credentialing process, said Wick.
Imaging Services, under the direction of supervisor Ross Peele, includes CT, X-ray, ultrasound, and 3D digital mammography. A mobile MRI unit may visit in the future if the need arises.
Peele hopes that people who are apprehensive about going to a larger hospital setting during the pandemic will come to this facility to get important preventative screenings and general healthcare.
The mammography and ultrasound areas have a separate waiting area and changing rooms for more privacy for female patients.
On the second floor is Iredell Rehab at Mooresville, under the direction of Dr. Darren Smith, which offers speech, occupational, and physical therapy. The therapy room features the latest equipment and private consultation areas for speech and occupational care sessions.
The second floor also has two available clinical spaces offering room to grow, according Kowalski. Green predicted this available space will go fast, gauging by the interest expressed by area healthcare providers.
Also upstairs is the new Family Care Center in Mooresville, which will have a full-time family medicine physician serving all ages beginning in August.
Statesville cardiologist Dr. Bradley Martin will offer care three days a week, along with cardiologist Dr. John Allen, who will open his practice on June 28, and be at the center three days a week.
Kowalski said the facility was also designed with staff well-being also in mind. The grounds include a one-third mile sidewalk loop for lunchtime walks, and water fountains include water bottle refill stations. Lactation rooms are also available for nursing mothers on staff.
Two other buildings are planned for the campus and will be built based on community needs at the time. The campus has capacity for 200,000 total square feet of facility space.
"What we put here will be an interesting decision based on how healthcare continues to evolve," said Green.
Photos