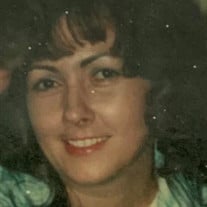 Mary Elizabeth Jones, 73, of Statesville, N.C., passed away May 26, 2021, at Davis Regional Medical Center.
She was born February 27, 1948, in Gaffney, S.C., the daughter of the late Robert E. Lee Hambright and Lois Lorene Pennington Hambright. She was also preceded in death by her beloved husband, Jackie Ray Jones; son, Tommy Jones; and six brothers and two sisters.
Mary enjoyed watching her soaps and never missed an episode of Days of our Lives. She liked to relax with a word search or paint-by-number. She loved her family and spending time with them and adored her grandchildren. She was a great cook and made the best homemade vegetable soup.
Left to cherish he memory are her children, Dale Jones and wife Lynn, Jody Jones and wife Lisa, Tammy Church and husband Bradley, and Brian Jones; grandchildren, Jeff Jones, Mandy Drum (Keelin), Luke Tyler Jones, Adriana Gaspar, Brittany Aguilar, David Timm, Wesley Timm, Kaleb Hupp, Tommy Jones Jr., Mason Reynolds, Kaylea Jones, and Brian Jones Jr.; great grandchildren, Ethan Roldan, Steven Aguilar, Nicholas Aguilar, and Monse Aguilar; sisters, Imogene Marrow (Paul), Brenda Gaddy ( Dan) and Gloria Aldridge; and numerous other loving family and friends.
A funeral service will be held at 1 p.m. on Tuesday, June 1, 2021, at Nicholson Funeral Home in Statesville. The family will receive friends one hour prior to the service at the funeral home. Burial will follow at Oakwood Cemetery in Statesville.
The family would like to thank Dr. Joshi and his staff for their compassionate care of Mary during her illness.
Nicholson Funeral Home is assisting the family.