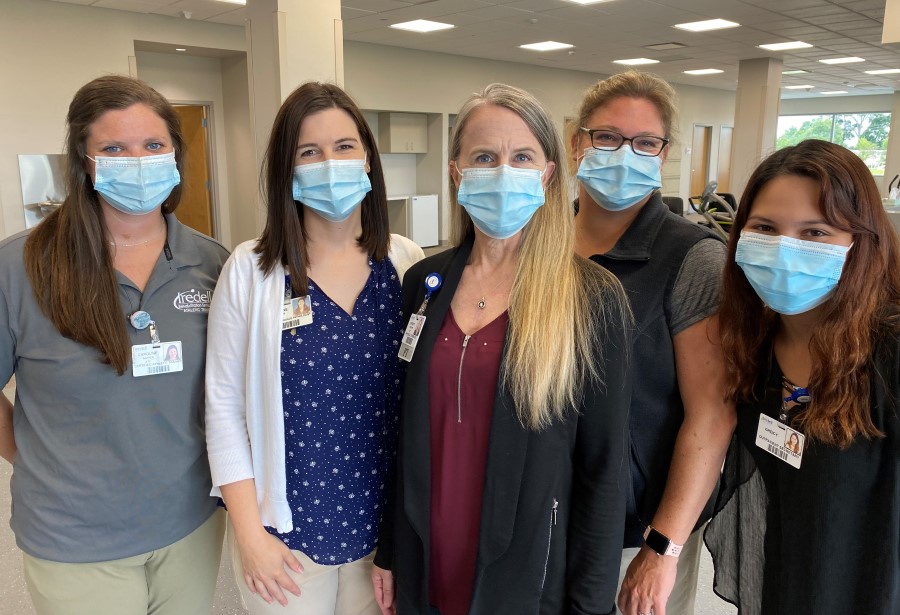 Special to Iredell Free News
You've just had surgery, and you're more ready than ever to get back to your daily activities. However, you may notice it is difficult to resume your everyday life right away.
The good news? Iredell Rehab at Mooresville can help you regain your strength and get back to doing the things you love.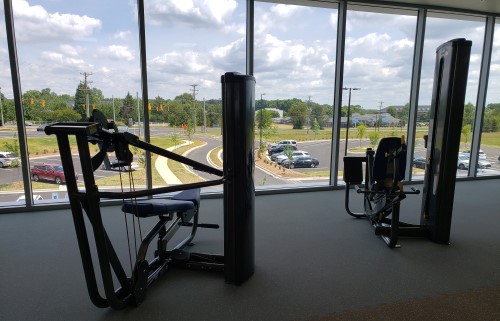 Iredell Rehab is located on the second floor of Iredell Health System's new facility, Iredell Mooresville. The new rehab center offers advanced rehabilitation services and features floor-to-ceiling windows, giving the space a calm, welcoming feel.
Therapists at Iredell Rehab provide physical therapy, occupational therapy, and speech therapy to help patients become as independent as possible in their daily life. There is also an onsite certified athletic trainer to assist with athletic injuries.
"Someone may need to visit Iredell Rehab to reduce pain, avoid surgery, return to activity after an injury or surgery, prevent injuries, or improve balance to prevent falls. We help people overcome barriers to physical activity," said Iredell Rehabilitation Services Director Darren Smith.
Physical Therapy
Physical therapy may be needed to help someone strengthen their muscles after an injury, illness, or surgery. Physical therapists at Iredell Rehab can help people regain the ability to move more easily.
Iredell Rehab offers treatment for pre and post-surgical rehab, work injuries and recovery, sports injuries and recovery, neurological conditions, orthopedic conditions, spinal pain, vestibular conditions, concussions, balance and gait difficulties, and chronic pain. The center additionally provides dry needling treatments, mechanical spinal traction, and manual and manipulative therapies to enhance recovery.
Occupational Therapy
Iredell Rehab also includes occupational therapy. Occupational therapists help individuals with underlying impairments, such as an injury, illness, or disability, perform day-to-day activities.
Occupational therapists at Iredell Rehab offer treatment for neurological and orthopedic conditions, pre- and post-surgery rehab, customized splinting, work injuries and recovery, and hand, wrist, and elbow conditions.
Speech Therapy
The speech-language pathologist at Iredell Rehab evaluates and offers treatment for speech, language, voice, cognition, fluency, and swallowing disorders.
People often struggle with communication, thinking skills, and the ability to swallow after a stroke, brain injury, or head and neck cancer. Some patients may need to learn how to communicate by alternate means when their speech is not clear.
Those diagnosed with a progressive diseases, such as Parkinson's, often benefit from speech therapy to help improve and maintain their skills.
Working to improve communication and swallow skills can greatly impact a patient's quality of life.
Meet the Team
♦ Physical Therapy: Colleen Burnham, PT, DPT, and Christy Millsaps, PT
Both Burnham and Millsaps are certified in dry needling and have a strong background in hands-on manual therapeutic techniques.
♦ Occupational Therapy: Corey Raper, OTR
Certified in splinting, with a special interest in the treatment of hand and wrist conditions, he is currently pursuing his certification in hand therapy and doctorate in occupational therapy.
♦ Speech Therapy: Caroline Goodson, CCC-SLP
Goodson is certified in Clinical Competence (CCC) by the American Speech-Language-Hearing Association. She is also certified in VitalStim for swallowing dysfunction and certified in SPEAK OUT!, a program to improve and preserve the speech of patients with Parkinson's disease.
♦ Athletic Training: Caroline Sawyer, ATC
Certified athletic trainer with South Iredell High School, Sawyer assists in assessing athletes for injury and further intervention with Iredell Health System.
LEARN MORE
To schedule an appointment at Iredell Rehab, patients can bring a physician referral, or the Iredell Rehab team can assist patients in coordinating a therapy evaluation with their provider.
"We will collaborate closely with your healthcare provider throughout your care. Often, when you call your provider, they will gladly send a referral to therapy to meet your needs," said Smith.
For more information about Iredell Rehab at Mooresville, please call 704-360-6490.
About Iredell Health System
Iredell Health System includes Iredell Memorial Hospital; Iredell Mooresville; Iredell Home Health; Iredell Wound Care & Hyperbaric Center; Community and Corporate Wellness; Occupational Medicine; the Iredell Physician Network and more. Iredell Memorial Hospital is the largest and only nonprofit hospital in Iredell County. The comprehensive healthcare facility has 247 beds; more than 1,700 employees; and has 260 physicians representing various specialties. Centers of excellence include Women's and Children's; Cardiovascular; Cancer; Surgical Services and Wellness & Prevention. The Health System's newest campus, Iredell Mooresville, is home to the area's only 24-hour urgent care facility, as well as an ambulatory surgery center, imaging center, rehabilitation services, and physician practices. The mission of Iredell Health System is to inspire wellbeing. For a comprehensive list of services and programs, visit www.iredellhealth.org.