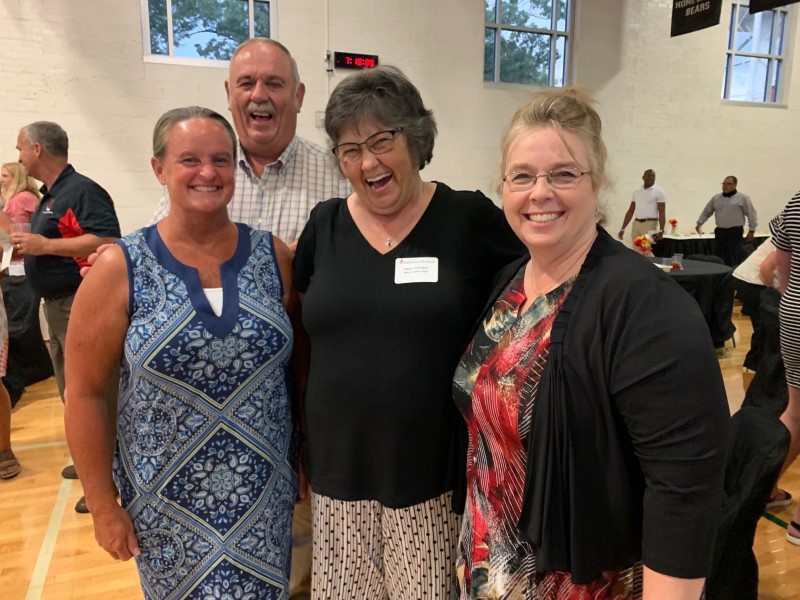 BY BRANDY TEMPLETON
Iredell-Statesville Schools celebrated the contributions of nearly 100 newly minted retirees on Tuesday night at the Unity Center.
The district recognized 94 retirees during the 2020-2021 Retirement Celebration Dinner. Combined, the guests of honor had 2,189 years of service in education.
"Tonight is all about our retirees," said LeVar Mizzle, executive director of human resources.
Telling them that they had reached the next chapter of their lives, he acknowledged their dedication.
"You made it to the end and you finished strong," Mizzle added, thanking them for "being the rock when things got tough."
Superintendent Jeff James also acknowledged the importance of each and every retiring employee.
"You are the people who have made a difference in our system," he said.
James brought laughter when he recognized the retiring principals, including Scotts Elementary Principal LeAnne Hall.
"Just in case you don't enjoy retirement, you have my phone number if you decide to come back," he said..
A special video featured tributes from principals and I-SS department heads thanking their retiring employees.
Marlene Scott, Third Creek Middle's principal, left a thoughtful message for Lydia Mayberry.
"She has been so wonderful to give our children love, faithfulness, and dedication as a team player," Scott said. "She worked so tirelessly and will always be the matriarch of Third Creek Middle."
At the end of the tribute, former principal Hall brought some comic relief.
Sitting on a beach bench, she asked her fellow retirees to visit her at Retirement Land "for endless days of rest, relaxation, and whatever."
Laughter erupted when she sang, "We're going to make it after all," the jingle from the Mary Tyler Moore TV show.
Retiree Annemarie Economou taught at Celeste Elementary and Lakeshore Elementary for the past 14 years. She plans to tutor now.
"I have had a passion for teaching children since I was a preteen, and I plan to be a tutor in my retirement," she said. "I appreciate the I-SS school system immensely for giving me the opportunity to teach and influence students all of these years."
Lead Nurse Karen Kerley thanked Statesville's school nurse, Kelly Feimster, for her many years of caring for students.
Feimster started her career during the AIDS epidemic and ended her career during the COVID-19 pandemic. Now that she's retired she plans to volunteer.
Dr. Billie Berry asked a retiree what his future plans were. The man said, "it doesn't matter what I do now; it matters what I've done and the difference I've made."
Superintendent James closed by reiterating the impact made by the educators, referencing his fifth-grade teacher who inspired him to stay in school.
"Each and every one of these educators ministered every day to kids," he said.
"Some people think they only work eight months, but it's more like 10 to 10 and a half months. It's not an eight to five job."
He encouraged the retirees to hold true to their morals.
"Keep Iredell County values, because we need you more than ever. The quality of this country depends on you."
Photos
I-SS Retirees