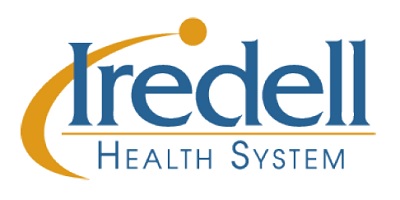 Special to Iredell Free News
In the event that someone — maybe one of your friends or family members — experiences cardiac arrest, what do you do?
During a cardiac arrest, every minute counts. So don't be a bystander. Anyone can learn the simple steps of hands-only CPR to save a life.
According to the American Heart Association (AHA), every minute CPR is delayed, a victim's chance of survival decreases by 10 percent. Therefore, immediately performing CPR can truly mean the difference between life and death.
Many individuals may be hesitant to perform CPR because they do not know how or they do not feel comfortable performing mouth-to-mouth.
"Most people are going to be hesitant in performing regular CPR because it requires them to put their mouth on a stranger," said Crystal Howell, RN and corporate wellness nurse for Iredell Health System.
However, there's another way to save lives.
What is Hands-Only CPR?
"Hands-only CPR is a type of resuscitation that the general public can perform with no medical training or background. It is simple, straightforward, and effective," said Howell.
Hands-only CPR, or cardiopulmonary resuscitation, consists of only chest compressions, and no mouth-to-mouth.
According to the AHA, hands-only CPR has been shown to be as effective as traditional CPR with mouth-to-mouth breaths in the first few minutes of a cardiac arrest. Any CPR is better than no CPR and gives the victim a much higher rate of survival versus no resuscitation at all.
How do I know if I should perform hands-only CPR?
You should perform hands-only CPR if you see someone having sudden cardiac arrest. Cardiac arrest is often confused with heart attack, though they are very different.
You can think of a heart attack like you would a plumbing problem. Heart attack occurs when coronary heart disease clogs the blood vessels to the heart, restricting blood supply. As a result, heart tissues die.
In contrast, think of cardiac arrest as an electrical problem. When the electrical system that keeps the heart rate and rhythm under control malfunctions, heartbeats become irregular. The heartbeats may be too fast or too slow and stop, both of which are deadly.
Sometimes, cardiac arrest may occur after a heart attack.
How do you know if someone is experiencing cardiac arrest?
Follow the signs below.
• Someone suddenly collapses and loses consciousness.
• The person does not respond when tapped on the shoulder and asked if he or she is OK.
• The person is not breathing or is only gasping.
If you see someone experiencing these red flags of cardiac arrest, follow the steps in the graphic to perform hands-only CPR — you just may save a life.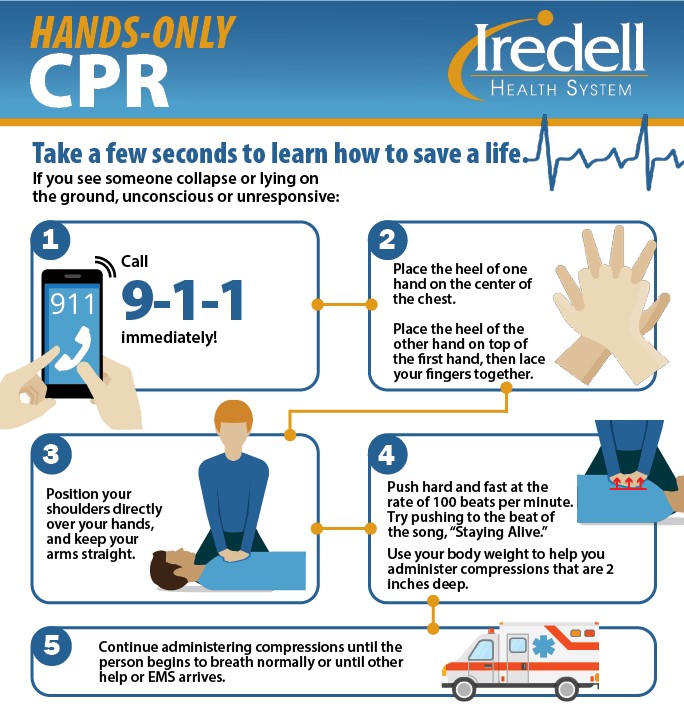 About Iredell Health System
Iredell Health System includes Iredell Memorial Hospital; Iredell Mooresville; Iredell Home Health; Iredell Wound Care & Hyperbaric Center; Community and Corporate Wellness; Occupational Medicine; the Iredell Physician Network and more. Iredell Memorial Hospital is the largest and only nonprofit hospital in Iredell County. The comprehensive healthcare facility has 247 beds; more than 1,700 employees; and has 260 physicians representing various specialties. Centers of excellence include Women's and Children's; Cardiovascular; Cancer; Surgical Services and Wellness & Prevention. The Health System's newest campus, Iredell Mooresville, is home to the area's only 24-hour urgent care facility, as well as an ambulatory surgery center, imaging center, rehabilitation services, and physician practices. The mission of Iredell Health System is to inspire wellbeing. For a comprehensive list of
services and programs, visit www.iredellhealth.org.