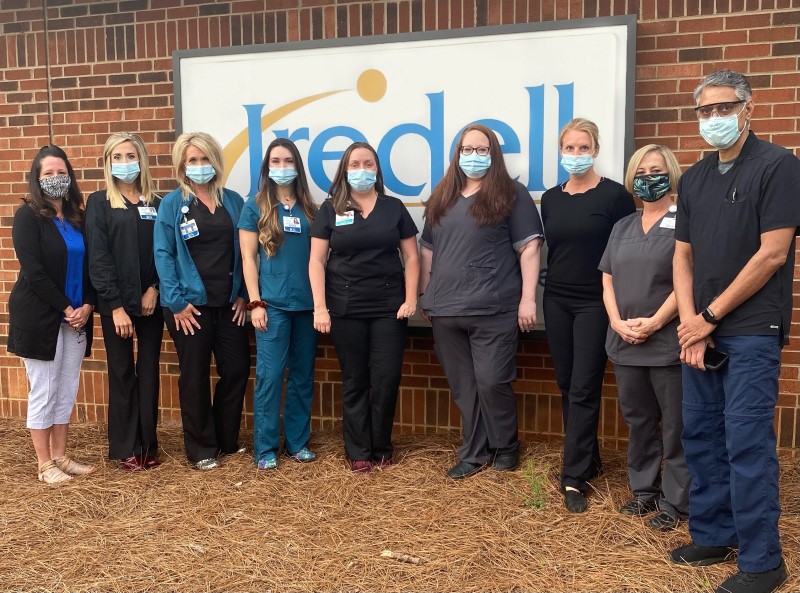 Special to Iredell Free News
For many of us, when we get a minor cut, scrape, or scratch, we place a bandage on top of the wound, and it heals within a few days. However, for those with certain underlying conditions, wounds may not heal so easily.
Iredell Wound Care & Hyperbaric Center, a member of the Healogics network, is helping raise awareness of the risks of chronic wounds during Wound Care Awareness Month. Healogics established Wound Care Awareness in 2014 to bring attention to the growing need for wound care and the nearly 7 million Americans currently living with chronic wounds.
A chronic wound, sometimes called a non-healing wound, is defined as a sore or wound that has not significantly improved after conventional treatments.
"It's important that patients prevent wound deterioration, which can lead to infections, amputations, and life-threatening sepsis. Proper wound care and resolution of chronic wounds can be life-changing for some patients," said Caroline Land, program director of Iredell Wound Care & Hyperbaric Center.
The incidence of chronic wounds is rising due to the aging population and increasing rates of diseases. Underlying medical conditions such as diabetes, peripheral artery disease, cardiovascular disease, and chronic obstructive pulmonary disease may inhibit proper wound healing, leading to chronic wounds.
Left untreated, chronic wounds can lead to diminished quality of life and possible amputation of the affected limb. Even more alarmingly, 50 percent of people die within five years of amputation. In the past year, COVID-19 has had a significant impact on wound care, as many patients have not able or not willing to seek medical attention in the midst of a pandemic. According to Healogics, a 50 percent increase in amputations was observed in 2020 versus 2019.
To support this underserved and growing population of people living with chronic wounds, Iredell Wound Care & Hyperbaric Center offers an evidence-based, systematic approach to wound care, providing advanced therapies to patients suffering from chronic wounds.
A patient's individualized treatment plan may include specialized wound dressings, debridement, compression therapy, hyperbaric oxygen therapy, advanced cellular products and topical growth factors, edema management, or non-invasive vascular assessments.
These treatments are the result of a team approach between the center's physicians, nurses, and the referring physician. A treatment plan is developed and scheduled based on the patient's needs. Once treatment is complete, the patient will return to their primary physician to continue routine care.
LEARN MORE
People with wounds that have not improved with traditional treatment methods may benefit from a visit to Iredell Wound Care & Hyperbaric Center. If you would like to schedule an appointment, call 704-768-0542. To learn more, visit iredellwoundcare.com.
About Iredell Health System
Iredell Health System includes Iredell Memorial Hospital; Iredell Mooresville; Iredell Home Health; Iredell Wound Care & Hyperbaric Center; Community and Corporate Wellness; Occupational Medicine; the Iredell Physician Network and more. Iredell Memorial Hospital is the largest and only nonprofit hospital in Iredell County. The comprehensive healthcare facility has 247 beds; more than 1,700 employees; and has 260 physicians representing various specialties. Centers of excellence include Women's and Children's; Cardiovascular; Cancer; Surgical Services and Wellness & Prevention. The Health System's newest campus, Iredell Mooresville, is home to the area's only 24-hour urgent care facility, as well as an ambulatory surgery center, imaging center, rehabilitation services, and physician practices. The mission of Iredell Health System is to inspire wellbeing. For a comprehensive list of services and programs, visit www.iredellhealth.org.