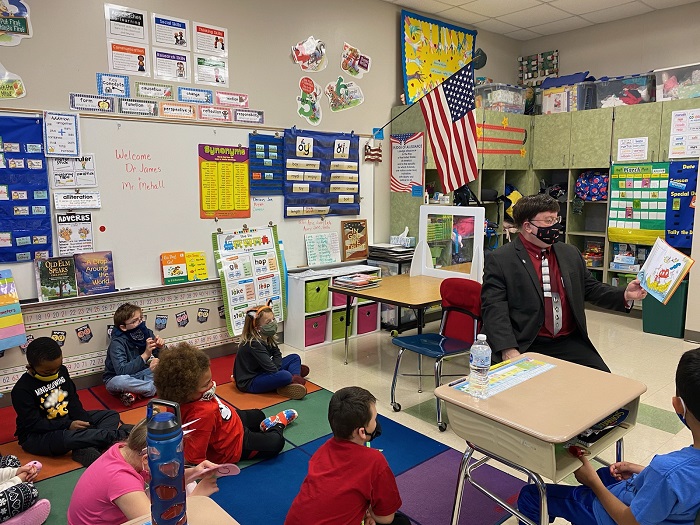 BY KARISSA MILLER
Iredell-Statesville Schools Superintendent Jeff James thumbed through a copy of a Dr. Seuss classic while surrounded by nearly 20 second-graders in Toni Gentle's classroom.
"Green Eggs and Ham" was appropriate as the superintendent shared a lesson he learned about cooking with the students.
"When I was in Rotary, we made green eggs unintentionally. I have found out if you leave them in the water long enough, they turn green," James said.
He also asked students who ate in the cafeteria. Most students raised their hands.
"They are trying to introduce different foods to get you to try," James said.
Several students asked the superintendent questions about the different cartoons he's seen. They were proud to like some of the same shows and movies.
Students also shared their favorite books and series, which included Harry Potter, Star Wars, Dog Man, T. Rex, Elephant and Piggy, and Wimpy Kid.
Gentle told students that her favorite book was "Charlotte's Web."
To celebrate Read Across America Day and to encourage reading, Cloverleaf Elementary, an International Baccalaureate World School, invited district leaders to read throughout the day.
Students, staff and teachers came dressed as their favorite book characters.
In first grade, all of the teachers dressed up as different colored monsters, which was inspired by "Monsters love colors." In kindergarten, students dressed up as 101 dalmatians with dog ears and a spotted face mask.
According to Assistant Principal Carla Moorefield, the Statesville's Woman's Club has a big part in Read Across America Day, but due to COVID-19 restrictions the school invited people within the school system to read.
"The path to literacy in most homes begins on the laps of parents for most children. However, we know that here that it needs to happen in our classrooms. That's why there is such a big emphasis with our team," Moorefield explained.
"We want to share the love of reading with all of our students here by pushing into the classrooms," she added.
The event was also an opportunity for the district's leaders and learn how they fit into their education, Moorefield said.
Celebrating books and reading was an all-day affair. It also featured Cloverleaf school leaders as readers. Virtual students also had special guest readers read books to them.
Photos