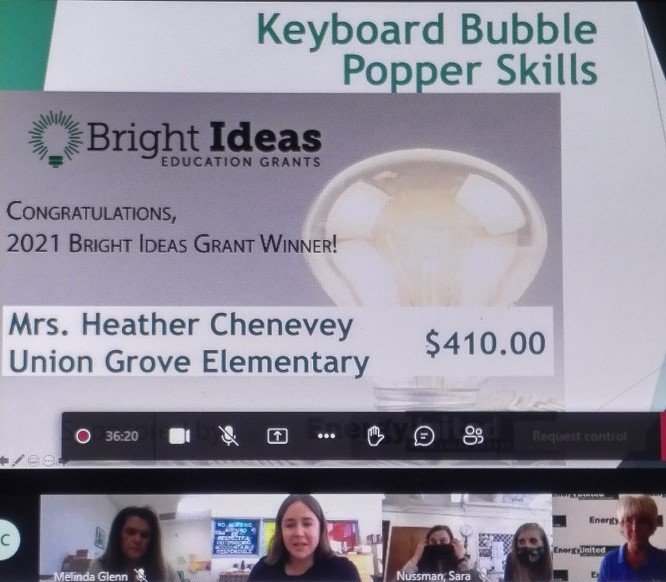 BY KARISSA MILLER
Four Iredell-Statesville Schools teachers were among the Bright Ideas Education Grant recipients recognized by EnergyUnited during the first of three virtual celebrations on Tuesday.
The local grant recipients recognized Tuesday were:
• Dana Gillis, The Brawley School;
• Alicia Driver, The Brawley School;
• Heather Chenevey, Union Grove Elementary; and
• Ryne Cooper, West Iredell High School
Each recipient shared a few details about their project during a virtual celebration event Tuesday afternoon.
Gillis received $1,000 for her Bright Ideas grant, which is the second she has been awarded by EnergyUnited. She will use the money to purchase handheld devices for her students.
"My students are getting into podcasting. There's a national podcasting competition that some of my students were interested in last year. We simply didn't have the technology to support them in that," Gillis said.
The handheld devices will also be used in their studies of U.S. history. She will collaborate with that teacher and teach a podcasting unit. Students will research their own history and tell their own story.
Driver received $891.77 from EnergyUnited. This is her fifth year receiving a Bright Ideas grant.
"I cannot say enough how much it has helped enhance the things in my classroom," she said.
Driver teaches circuits and said she does a lot of simulations in the classroom. She said the grant money will allow her students to build certain circuits on a board and see things "light up."
She hopes it will inspire them to possibly pursue a career in the electrical field and have fun learning how energy is important and how it is transferred.
Chenevey received $410 for her Bright Ideas grant.
While her students are visiting the library, they will be able to practice their keyboarding skills in a fun way with bubble popper keyboards on their devices.
Cooper received $730.99 for his grant. He was not present for the meeting.
EnergyUnited awarded nearly $45,000 to 46 North Carolina teachers through the Bright Ideas education grant program. Teachers are from Alexander, Catawba, Iredell, Cabarrus, Davie, Davidson, Forsyth, Mecklenburg and Stokes counties.
The grants will allow them to effectively implement innovative classroom projects that will make a difference in the lives of thousands of students.
"EnergyUnited is committed to delivering a brighter future for our communities," said Maureen Moore, communications manager for EnergyUnited. "The NC Bright Ideas program is just one resource that we leverage to support this vision."
Since the Bright Ideas grant program began in 1994, EnergyUnited has contributed nearly $950,000 to local teachers.
EnergyUnited is one of 26 member-owned electric cooperatives in the state offering Bright Ideas grants to local educators. During the month of November, North Carolina's electric cooperatives will award teachers statewide close to $600,000 in Bright Ideas education grants.
Other winners recognized during the first virtual celebration were:
• Daniel Lough, Central Davie Academy
• Denise DiTondo, Davidson Elementary
• Kristine Drum, North Davidson Middle
• Kacie Wilson, North Davidson Middle
• Amanda Coppley, North Davidson Middle
• Sara Nussman, Stoner Thomas School
• Melinda Glenn, Taylorsville Elementary
• Brittney Bray, Walker Town Elementary
• Genna Holt, Walnut Cover Elementary
• Melanie Sigmon, West Alexander Middle School
• Amanda Reid, West Alexander Middle School
• Tamara Glover, West Charlotte High
• Elaine Phelps, Winston-Salem Forsyth Virtual Academy
While schools are trying to get back to normal, many teachers are trying to close learning gaps and catch up on skills. Some of the grants will give students opportunity to use all of their senses to learn or help provide them with tools to make learning fun.
Improvements ranging from virtual reality to hydroponic kits for growing fruits and vegetables brought out a sense of pride in winning teachers. Teachers could also get ideas from other teachers and hear what teachers in surrounding schools are doing in their classroom.