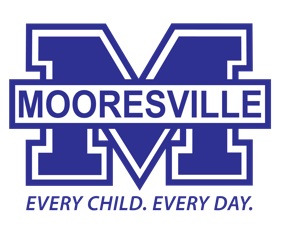 BY MELINDA SKUTNICK
Several key Mooresville Graded School District staff members were recently recognized by the Board of Education for their contributions to the district.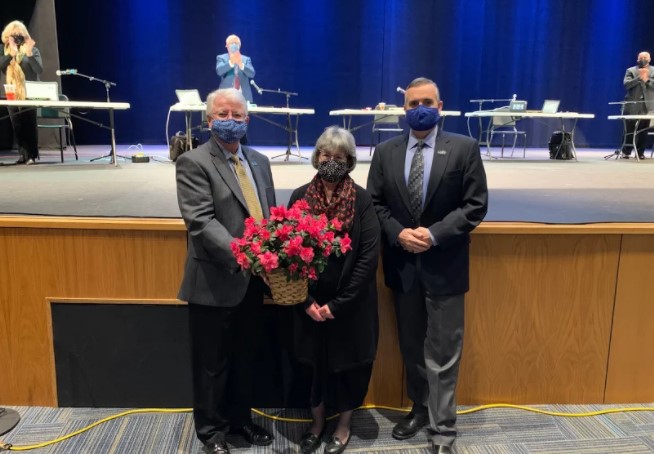 Chief Financial Officer Terry Haas, who is retiring at the end of February after 13 years with MGSD and more than 30 years in North Carolina schools, was honored with an abundance of kind words from board members and staff as well as a bouquet of flowers.
"I want to take a moment to recognize a valuable member of our executive team," Superintendent Stephen Mauney said. "Ms. Haas is enjoying her last official board meeting before retirement. I want to take this opportunity to publicly thank her for her many, many, many years of dedication to public education."
Board member Deborah Marsh said Haas has been a critical part of the leadership team.
"We talk a lot about Mooresville and Mooresville Graded being a family," Marsh said. "With that said, I consider Terry our mother in that she has guided us through some really challenging and difficult times. … Being a good parent, she has taught us a valuable lesson that 'no' means 'no.' We've learned that lesson very well. Thank you so much for all that you have done for Mooresville Graded and for our kids, 'cause that's what we're all here for."
Board member Leon Pridgen asked "how do you find superlatives to express excellence?" and board member Kerry Pennell noted that Haas has set the district up for success "long after you're gone."
Board chairman Roger Hyatt was effusive in his praise for Haas.
"If anyone in this room can really appreciate what you do, it's me. Because at one time, 30 years ago, I thought I wanted to be you," Hyatt explained. "I tried it for a couple years and I thought 'get me the hell out of here' … You are unique in that you are a CPA with a sense of humor, and to work among this class of clowns – er family – one has to have a sense of humor. But you also have a sense of seriousness. … That's not to say you're irreplaceable because someone else is coming.
"I'm not sure they can take your place, but maybe they can walk in your shoes for a while," he added.
Haas thanked the Board and superintendent for their heartfelt comments, calling it "an honor to be part of this family." She continued prior to receiving a standing ovation, "It's just been a privilege to share time here with Mooresville. You all hold a special place in my heart and you always will."
Honoring School Nurses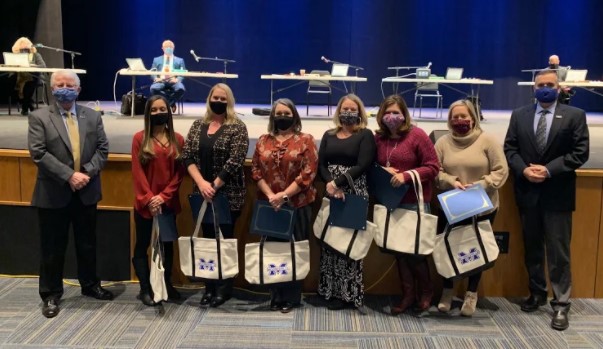 MGSD officials also honored the district's nurses for their perseverance and hard work.
Tanae Sump-McLean, the district's chief communications officer, said nurses are often overlooked in public schools.
"We wanted to shed a light on and thank seven extraordinary individuals in our district. They are so vital to our students every day from administering medicines, to dealing with tummy aches, asthma attacks, fevers, falls, bumps and bruises," she said.
Noting the immense challenges created by COVID-19 during the last year, Sump-McLean called this group of nurses "the best team" in the state. She shared a variety of comments from school leadership that praised the work of each nurse.
The recognized nurses are:
♦ Rachel Alcantara, South Elementary;
♦ Dana Annas, Mooresville Middle School;
♦ Brenda Austin-Johnson, East Mooresville Intermediate;
♦ Ashley Clinard, Mooresville High School;
♦ Ashley Schaen, Rocky River Elementary;
♦ Megan Simpson, Mooresville Intermediate; and
♦ Shannon Stone, Park View Elementary.
"We appreciate all that you do each day to care for the health and wellbeing of our students, especially during these challenging times," Mauney said. "I am incredibly proud of your dedication, responsiveness and the guidance you continue to provide to our students, families and staff."