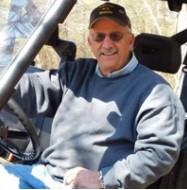 John Gilbert Kirkman, 71, of Mooresville, N.C., passed away on February 15, 2021. He was born on October 7, 1949, in Mount Ulla, N.C., to the late Ross Rogers and Elizabeth Benfield Wilson.
Mr. Kirkman was a very beloved mailman in Mooresville for many years. He enjoyed being outdoors on the tractor and driving his '55 Chevy truck. He had a great love for his grandchildren, always tried to help anyone he could, and was a friend to all and a mentor to many.
In addition to his parents, he was preceded in death by sisters, Mary Kennamer and Glenda Dean; and brothers, Marvin, Jimmy, and Clyde Kirkman.
He is survived by his wife, Jan Graves Kirkman; children, Chad Kirkman (Stephanie) and Jesse Kirkman (Amy); sisters, Betty Threadgill and Marsha Trexler; grandchildren, Emersyn Kirkman, Hunter McKinney, Colton Kirkman, and Isabel Kirkman; and numerous nieces and nephews.
The family will receive friends on Thursday, February 25, from 10 to 11 a.m. with a service following at 11 a.m. at Cavin-Cook Funeral Home Chapel. A private graveside service will be held at Salisbury National Cemetery. The family is asking everyone wear face coverings and practice social distancing.
For those who are unable to attend the chapel service, you may go to the following link for the live stream: https://www.youtube.com/channel/UC864hAs96dTRLVVL1la0Qlw/videos?view=2&flow=list
In lieu of flowers, memorials may be made to a church his nephew has started, Mt. Logan Baptist Church, P.O. Box 6543, North Logan, UT 84341 or his home church, First Reformed Church, 210 N. Central Ave, Landis, NC 28088.
Cavin-Cook Funeral Home & Crematory, Mooresville, is serving the Kirkman family. Condolences may be made to the family at www.cavin-cook.com.