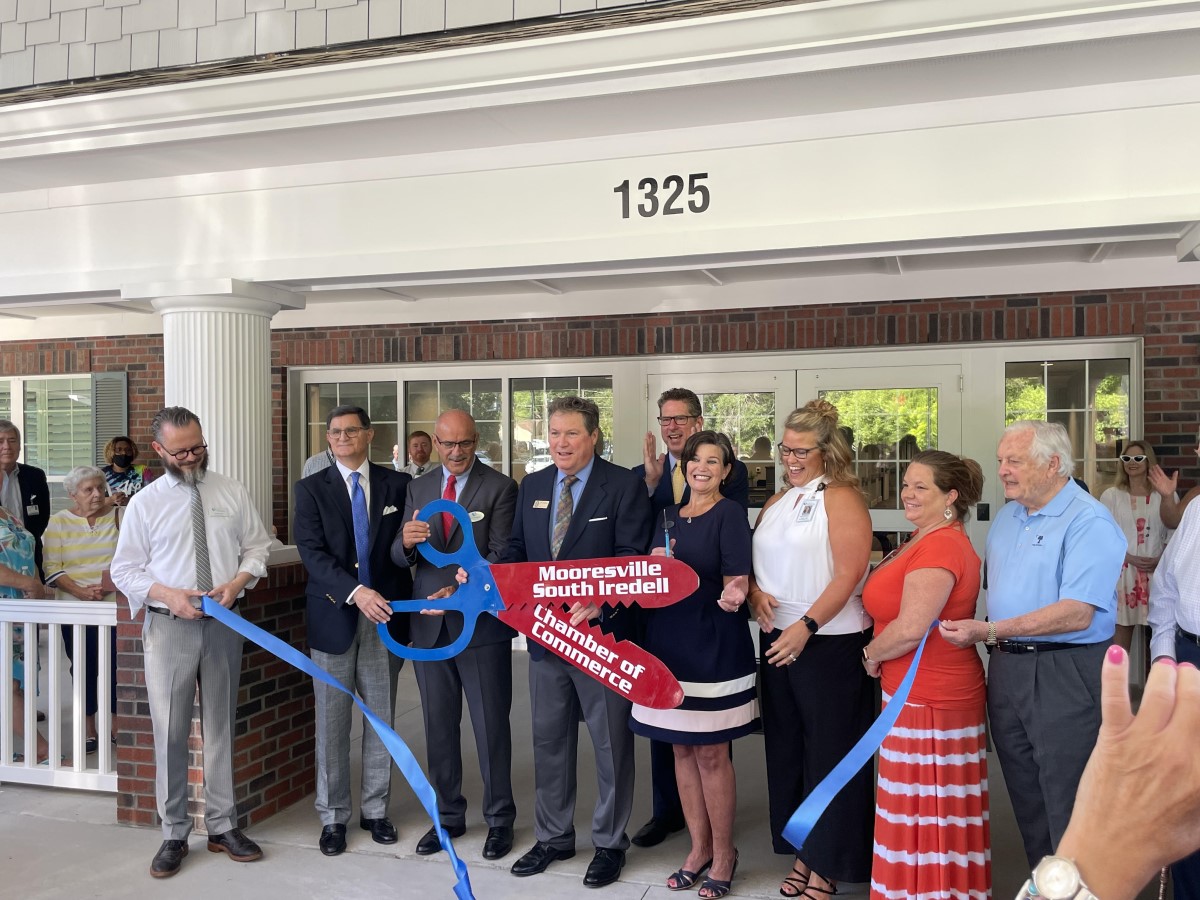 BY MIKE FUHRMAN
Ron Mack's parents received compassionate care during the final days of their lives from Hospice & Palliative Care of Iredell County.
The kindness and love shown by the Hospice team at the end of their lives helped make those difficult times "very meaningful" to the Mack family.
On Wednesday morning, Ron Mack — along with a large crowd of Mooresville residents and community leaders — participated in the official ribbon-cutting ceremony for the S. Mitchell Mack Hospice House, which bears the name of Mack's late father.
"This is a great day for Mooresville," Mack said. "If Dad was here, he would echo that sentiment. He spent the vast majority of his 97 years working to make Mooresville a better place."
John and Christy Mack provided the lead gift of $1 million for the facility in November and asked that it be named after S. Mitchell Mack, who was John's cousin.
The new 15,100-square-foot facility — which includes the adjoining Homecare & Bereavement Center — is expected to begin serving patients and their families by the end of the July following a final inspection by state officials.
The house, which was constructed by Statesville-based G.L. Wilson Building Company in less than a year after the ceremonial groundbreaking — has 10 patient rooms, cheerful family areas, a full-service kitchen, and outdoor areas with a serene meditation space. A sacred garden is also planned for the front of the property, which is located at 1325 Mecklenburg Highway.
Town officials said the facility will meet an important and growing need in Mooresville. Patients who require end-of-life residential care currently have to travel outside the county or to the Gordon Hospice House in Statesville, which puts an added burden on family members.
"Hospice is such a great, great organization," said Hospice Board member and retired Mooresville Police Chief Carl Robbins. "This is overdue in this community."
Mayor Miles Atkins, who was joined by most of the town commissioners at the ceremony, said the need for the Hospice house was significant — and the community's support was evident in the large turnout. "We are so thankful and grateful you are here today," he said.
Terri Phillips, the president and CEO of Hospice & Palliative Care of Iredell County, said the nonprofit was committed to serving the end-of-life needs of patients with care and compassion.
"The legacy of S. Mitchell Mack is going to continue here," she said. "We feel so very blessed."
Photo Gallery