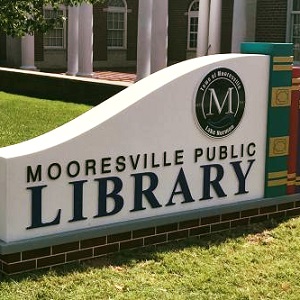 Special to Iredell Free News
The Mooresville Public Library has been awarded one of 47 grants from the State Library of North Carolina.
The Town of Mooresville will receive $99,912 to help fund a branch library on the west side of town. The town will use the grant funds to provide automated equipment for the new branch library.
The grant was awarded under the State Library of North Carolina's 2021-2022 Library Services and Technology Act (LSTA) program. This year's $4,843,343 federal allotment will be distributed on behalf of North Carolina's libraries through programs and services available under the North Carolina LSTA Five Year Plan.
The 47 awards go to local library projects that:
♦ Strengthen Capacity;
♦ Expand Access; and
♦ Engage Communities.
These grant awards are made possible by funding from the federal Institute of Museum and Library Services (IMLS) under the provisions of the Library Services and Technology Act (LSTA) as administered by the State Library of North Carolina, a division of the NC Department of Natural and Cultural Resources (IMLS grant number LS-249980-OLS-21).
LSTA grants are awarded in response to specific needs of public, academic, and community college libraries. These federal funds are investments that help libraries deliver relevant and up-to-date services to their communities.
A full list of awardees appears at https://statelibrary.ncdcr.gov/services-libraries/grants-libraries/lsta-grant-information.
About the State Library of North Carolina
The State Library enriches the lives of North Carolinians through access to information resources, strengthens communities through exceptional library services, and inspires and supports literacy and lifelong learning for all North Carolinians. The Library Development section helps North Carolina Libraries serve their communities by providing consulting services, supporting continuing education opportunities, and administering grant programs, including the Aid to Public Libraries fund that supports public libraries serving all 100 NC counties. The Library for the Blind & Physically Handicapped circulates books and magazines especially made for persons who cannot use regular printed material because of a visual or physical disability. The Government & Heritage Library provides library materials and services to support state employees, family history researchers, educators and students, and those interested in North Carolina culture and history.