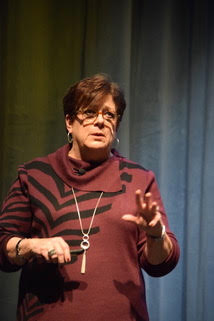 BY DEBBIE PAGE
debbiepage.iredellfreenews@gmail.com
The Mooresville Graded School District and the Town of Mooresville partnered with Susan Tolle of American Foundation for Suicide Prevention (AFSP) on Wednesday night to show the community that "Talk Saves Lives" in the wake of a recent student death by suicide at Mooresville High School.
Representatives of AFSP, the National Alliance on Mental Health, Rainbow Kids, and the United Way of Iredell County provided attendees with a variety of resources and information. Three counselors were also available to talk with anyone experiencing distress during the event.
MGSD Superintendent Stephen Mauney welcomed dozens of attendees and Mayor Miles Atkins stressed the far-reaching impact that suicide has in our community.
"The tragedy of suicide is something that touches nearly all of us at some time in our lives. You are here tonight because you've been touched, and we are here tonight because we care about you," Atkins said.
Tolle opened her presentation by proclaiming that as a parent like those in attendance, "I would do anything — anything — to keep my child safe." She commended parents for being there to learn how to talk to their kids about suicide and to learn about the stats, warning signs, and risk factors related to this national tragedy.
"Suicide is a health issue," said Tolle, noting that most people with suicidal ideation battle depression. However, Tolle believes it should be seen by society like any other illness. With medication and treatment, those with depression and suicide ideation can lead fulfilling lives.
Tolle also emphasized that suicide is totally preventable with education, awareness, and open talk. Her own daughter had all 22 warning signs prior to her suicide attempt, but Tolle did not know what to look for at that time.
Awareness and public education can help eliminate the stigma surrounding suicide ideation and in turn help reduce deaths by suicide because people will be more willing to reach out for help, she said.
Part of that stigma is the poor word choices people use when discussing suicide. Saying someone "committed suicide" or had a "failed" or "successful" suicide is stigmatizing; instead say "died (or death) by suicide," "ended their life," or "suicide attempt."
STATISTICS
According to the World Health Organization, more than 800,000 people died by suicide globally in 2019, but the number fell to 703,000 in 2020 because of education and awareness efforts. That equates to someone taking their life every 40 seconds.
However, due to poor reporting in undeveloped countries and those covered up as "accidental deaths" by embarrassed families, researchers estimate the number of suicides is actually closer to 1 million annually.
In 2019, 47,511 people took their lives in the United States, making it the 10th leading cause of death in the country. In North Carolina, a person dies by suicide every 9 minutes.
For every death by suicide, researchers estimate that 25 people attempt it, which would equate to an estimated 25 million attempts each year worldwide.
Another disturbing 2019 finding was that in youths ages 10 to 19, the number of suicides in America per 100,000 people rose from 0 at age 10 to 19 at age 19, the sharpest rise of any age group.
Suicides among adults 85 and older has also risen sharply from 2010 to 2019, which Tolle expects is even higher through the last two pandemic years.
Boys are 3.6 times more likely to take their lives than girls, but girls are 1.3 times more likely to make an attempt.
Even more frightening, for every completed youth suicide, experts estimate that there are 100 to 200 attempts.
RESEARCH
Tolle said AFSP is the largest private provider of suicide research funds in the world.
Studies indicate that 1 in 4 people in the general population have mental health issues, but nine out of 10 who die by suicide have mental health conditions. However, having a mental health condition does not mean a person is suicidal, added Tolle.
Researchers have learned that the brains of people who die by suicide are different in both structure and function from those who succumb to other causes. Tolle recently spoke to a neurologist abut this research, and he told her, "Healthy brains will not entertain thoughts of suicide."
Most people with suicide ideation are ambivalent about completing the act, so engaging the part of their brains that want to live is important in an imminent crisis situation.
Researchers are looking into avenues to prevent suicide. They are looking for biomarkers in the blood to see if those with suicidal ideation could be identified and treated. A number of psychotherapies, medications, and interventions are also being explored for effectiveness.
RISK FACTORS
Suicide ideation is life-threatening and must be taken seriously each time it is expressed, warned Tolle, who further explained the mental and physical health, historical, and environmental suicide risk factors.
She defined suicide risk factors as influences that endure over a period of time, while suicide warning signs indicate a crisis situation with an imminent suicide risk that must be addressed quickly.
Teen suicide risk is often clearly linked to mental health conditions, with both often occurring together. These conditions include major depressive disorder, conduct disorders, substance use, eating disorders, anxiety disorders, schizophrenia and bipolar disorder.
Physical illnesses such as tinnitus (ringing sound), traumatic brain injury, rheumatoid arthritis, and chronic pain disorders also increase suicide risk.
Historical factors include a family history of completed suicide or suicide attempts, alcoholism or substance use disorder, family trauma, witnessing or being a victim of abuse, or family mental health history, such as multiple relatives with depression or anxiety, child abuse, previous attempts, or experienced loss.
Environmental risk factors include experiencing bullying, relationship problems such as a break-up or divorce, witnessing or being a victim of violence, experiencing the loss of a loved one, or being a victim of sexual violence.
Tolle noted that after the suicides of Anthony Bourdain, Robin Williams, and Kate Spade, an uptick in the number of suicides occured, a "contagion" phenomenon that often occurs after graphic or sensationalized accounts of suicide.
Warning signs require immediate intervention. These indications include conversation about killing themselves (joking or not), having no reason to live, being a burden to others, feeling trapped, or being in unbearable emotional or physical pain.
Certain behaviors also suggest enhanced suicide ideation signals, especially when relating to a painful event, loss, or change. These behaviors include increasing use of drugs or alcohol, researching methods or means to end their lives, acting recklessly, withdrawing from activities, isolating from family and friends, sleeping too much or too little, visiting or calling people to say goodbye, giving away prized possessions, or displaying increasingly aggressive behavior
Unusual moods may also portend a threat of suicidal ideation. Depression, loss of interest in previously enjoyed activities, unusual rage, increased irritability, displaying feelings of humiliation, and exhibiting increasing anxiety can indicate suicidal thoughts.
PROTECTIVE FACTORS
Some protective factors reduce or prevent suicidal ideation. These include mental heath care and treatment to address any illnesses, family and community support to avoid isolation and promote connection, developing problem-solving skills to avoid feelings of hopelessness and failure, and cultural and religious beliefs that offer other solutions or alternatives.
Smart mental health care with a professional is important for anyone experiencing depression, anxiety, or other mental disorders. Being proactive to seek a mental health care evaluation and explore treatment options that best suit the individual is important.
Tolle reminded the audience that the law requires health insurance policies to cover mental health care as they do for physical ailments.
Other important protective actions are getting plenty of exercise, sleeping well, maintaining a healthy diet, and managing stress.
TALKING TO AN AT-RISK PERSON
When talking to a person contemplating suicide, Tolle said understanding the perspective of the person is imperative. The person has reached a crisis point and is desperate to escape the pain being suffered. Thinking becomes limited — a tunnel vision of sorts with death as the only escape.
The most important thing to do is to put time and obstacles between the suicidal person and any means to end life until the impulsivity to complete the act subsides.
For example, put a lock on guns — free locks are available at the Iredell County Sheriff's Office, put guns in a lockbox, and keep the ammo in another location. By the time the person has to work through all those steps, the impulse may lessen and thinking can clear.
Other means to limit lethal access being considered or implemented are CO sensor shut-offs in vehicles, blister packaging for medication, and barriers on bridges.
When beginning a private conversation with a struggling person, you must ask the tough, scary question: "Are you thinking about harming yourself?" This question lets the person know you noticed the pain, that you care, that you want to help, and that the person is no longer alone in a cycle of suicidal thoughts.
Tolle said you should listen to their story, express concern and caring, and encourage them to seek mental health professionals for help. Ask them questions about how they feel or what help they need instead of telling them how they should feel or telling them what to do.
Do not minimize their feelings, try to convince them life is worth living, or try to fix their problems.
If you think they are about to actively end their lives, Tolle advised staying with them — no matter what they may say or promise, securing or remove lethal means, and escorting them to mental health services or to an ER. You can also call 911 to get help. (Ask for no sirens, which can be a possible suicide trigger.)
The Mooresville Police Department has a crisis intervention team for these situations, and Partners also has a 24-hour helpline (1-888-235-HOPE (4673)) that can get a free mobile crisis team to the home within two hours during a crisis situation.
Otherwise, Partners' triage system arranges crisis mental health care for any illness for anyone, with or without insurance, within one business day, or offers urgent level care in a few days.
Getting access to mental health resources can be challenging, with 80 percent of North Carolina counties without enough providers, added Tolle. She said when calling to get help for a suicidal person, tell the provider it is an "emergent need" to speed response.
Tolle advised attendees to put the AFSP hotline number (1-800-273-TALK (8255)) in their phones to have on hand as a resource as well. Users can also text "TALK" to 741741 for assistance.
Community members can also contact the Partners hotline to get information on training in QPR (Question, Persuade, Refer), Mental First Aid, and other topics to assist those who want to more actively reach out and care for family, friends, and community members.
Additionally, North Carolina offers a N.C. Certified Peer Support Specialist program (https://pss.unc.edu) for those interested in helping others in the community.
MGSD ASSISTANCE
MGSD assists students with its Social-Emotional Learning (SEL) program to help students explore their emotions and mental health needs, but "we have a long way to go," according to Superintendent Mauney. The district also surveyed students anonymously to assess student needs and to tailor responses to assist them.
He noted that children cannot learn effectively until their other needs are met. He noted SEL looks at the child's overall health, well-being, and development and is not related to Critical Race Theory, although some parents mistakenly associate the two.
In response to concerns that few students attended this presentation, Mauney said he is open to more effective small group student assemblies to address suicide risks and warning signs or other issues as identified.
He noted that students in grades K-6 have "Morning Meetings" to talk about what's on their minds. Self-regulation, or controlling their emotions, is an issue many express problems with. The students also practice problem-solving, coping skills, and developing resiliency in these sessions.
Parents requested that Mauney consider adding these sessions to the middle and high school levels as well to help students connect and address their social-emotional needs.