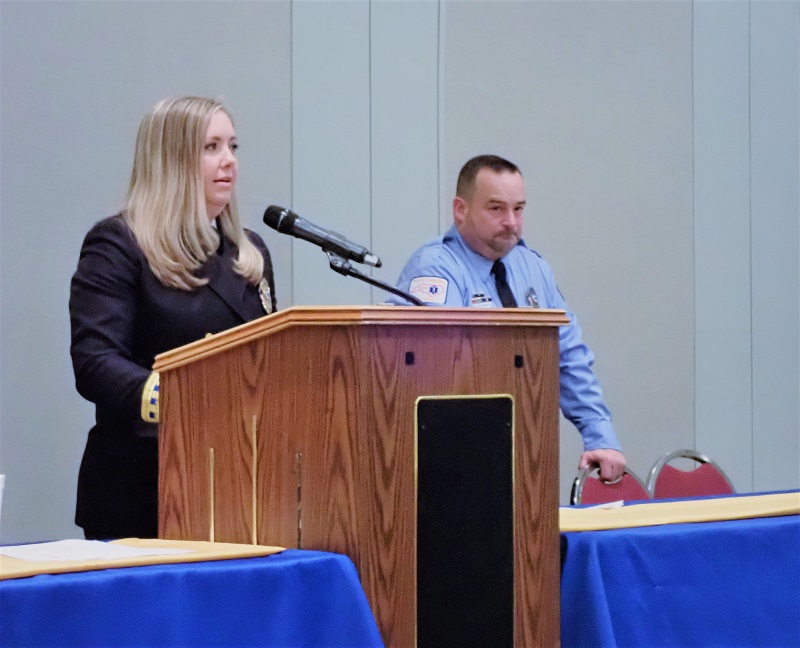 BY KARISSA MILLER
Dozens of emergency responders were recognized for outstanding service to their community at the 2021 Iredell County EMS Awards Banquet at the Statesville Civic Center on Wednesday evening.
The banquet is held each year to honor Emergency Medical Services employees, as well as first responders and telecommunicators for excellence in pre-hospital care, education and other special achievements.
EMS Director Blair Richey explained that in the field they work closely with police, firefighters, rescue squad and telecommunicators and said it's truly a group effort.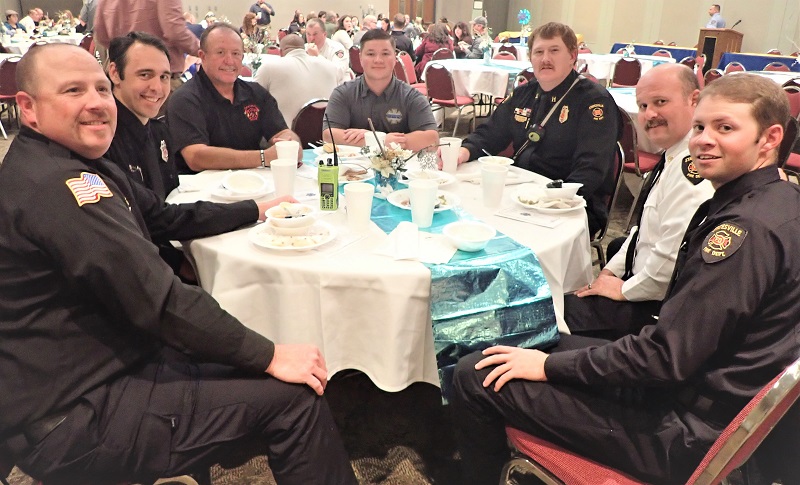 The Awards Committee recognized 47 responders with the Life Saving Award this year. Awardees included EMS paramedics, firefighters, rescue squad and telecommunicators.
EMS Field Training Officer Matthew Munsey said firefighters in one particular response effort successfully performed cardiopulmonary resuscitation before EMS personnel arrived on the scene.
EMS medical director, Dr. Jason Stopyra, challenged emergency responders to set high standards for themselves. During the keynote address, Stopyra shared three trying situations that had positiveoutcomes because of the creativity and patience exhibited by responders.
"I want to challenge you today to really realize your potential," he said. "Our situation may not really be what we perceive."
He emphasized that success and feeling good about your work is a habit-forming behavior. "With successful habits, you will realize you have no lid or limit," he added.
Family members were also on hand to show their support to award recipients for their achievements and recognition.
Awards
The 2021 awards were presented as follows:
♦ Life Saving Award: Michael Potter, Kiana Morton, Greg Shields, Ray Pope, Almurray Connor, Josh Deal, Jeffery Edwards, Gabriel Gomez, Brandon Hedrick, Jerry Houston, Adam Inman, James Kennerly, Ben McLain, Chase Sharpe, Scotty Bobbitt, Josh Fussell, Lindsay Davis, Adam Kilby, Anthony Armstrong, Richard Gregory, Wesley Long, Steven Moore, Jason Myrick, Frank Quick, Hunter Shook, Adam Sparks, Cheyenne Wilson, Austin Huntington, James Abernathy, John Craver, Riley Donahue, James Dunn, Kelly Robinson, Jerry Starr, Ryan Yost, Eric Pope, Colby Reid, John Wilkinson, Matt Franklin, Timothy Barber, Steven Jones, Jason Smith, Hunter Swicegood, Cameron Witherspoon, Brandon McLain, Charles Thompson and Wayne Toulouse.
♦ Cardiac Save: Mike Smith, Nicole Rochester and Dan Paulson.
♦ Acute Pediatric: Ashley Warren and Annie Fussell.
♦ Trauma: Brittany McNeil, Breanna Creason, Tyler Robinson, Christine Morgan, Ray Pope, Samuel Estes, Brandon Hedrick, Jerry Houston, Morgan McCoy, Chris Venable, Adam Kilby, Nathan Jones, Ben McLain, Tommy Wingler, Spencer Alves, Adrian Woods, Josh Fussell, Vanessa Bigwood and Almurray Connor.
♦ EMS Cross Award: Matthew Franklin
♦ ECOM EMS Telecommunicator of the Year: LaShareca Harrison
♦ 2021 Mission: Lifeline Gold Plus Award: Iredell County Rescue Squad, North Iredell Rescue Squad, Central School VFD, Cool Springs VFD, Ebenezer VFD, Harmony VFD, Lake Norman VFD, Monticello VFD, Mt. Mourne VFD, Shepherds VFD, South Iredell VFD, Trinity VFD, Troutman Fire and Rescue, Union Grove VFD, Wayside VFD, West Iredell VFD, Mooresville Fire and Rescue, Statesville Fire Department and Stony Point VFD.
♦ Superlative Awards: Matthew Munsey and Katie Corriher
Service Awards
♦ 25 years: David Cloer and Dan Paulson
♦ 20 years: Josh Wallace, Tim Martlock and Dawn Toohey
♦ 15 years: Lisa Beam, Sandy Cartner, Bradley Deal, Angela Hobbs, Juan Martinez, Kim Meyer, Ray Pope and Kristy Smyre.
♦ 10 years: Amy Bednarik and Rodney Tomlin
♦ 5 years: Brandy Mitchell, Kayla Potts, Cody Arrington, Jonah Blackburn, Jason Cass, Christa Deal, Wes Hardin, Scott Morgan and Amanda Wike.
Photo Gallery